M A I N N E W S
Expulsion at Chautala's behest, say MLAs
S. Satyanarayanan
Tribune News Service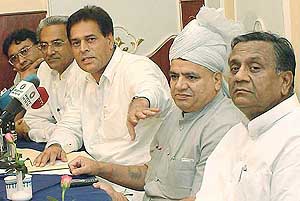 From left: Expelled Haryana MLAs Bhim Sen Mehta, Rajendra Singh Bisla, Karan Singh Dalal, Dev Raj Diwan and Jai Parkash Gupta address a press conference in New Delhi on Saturday. — Tribune photo by Mukesh Aggarwal
New Delhi, June 26
In a last-ditch effort to protect their voting right for the June 28 Rajya Sabha poll, the disqualified Haryana MLAs are contemplating moving a fresh petition in the Supreme Court or Punjab and Haryana High Court against state Assembly Speaker Satbir Singh Kadian's decision to expel them under the anti-defection law.
"We are consulting legal experts and soon we will decide as to whether amend our petition already lying with the Supreme Court or file a fresh petition challenging the expulsion in the apex court or Punjab and Haryana High Court," the expelled MLAs, except Mr Jagjit Singh Sangwan, told newspersons at a joint press conference here.
Mr Karan Singh Dalal, speaking on behalf of the other expelled MLAs, Mr Jai Prakash Gupta, Mr Bhim Sen Mehta, Mr Rajinder Singh Bisla and Mr Dev Raj Diwan, said they would also approach President A.P.J. Abdul Kalam and Union Home Minister Shiv Raj Patil.
Accusing the Haryana Speaker of taking this "undemocratic" step at the behest of Haryana Chief Minister Om Prakash Chautala, Mr Dalal hoped that they will get justice from the court of law. "We have full faith in the Judiciary," he said.
Alleging that they had become victims of "political vendetta", Mr Dalal said this "unprecedented" action was initiated after they had decided not to support the candidature of the Chairman of Minorities Commission Mr Tarlochan Singh. He said they had opposed his candidature as he was a sympathiser of the Shiromani Akali Dal (Badal), which is opposed to completion of the SYL canal.
"The moment we decided not to support the candidature of Mr Tarlochan Singh and to support Congress candidate Kiran Chaudhary, we were offered a berth in the Cabinet, chairmanships of various boards and corporations if we decide to support the former. But when we decided not to accept these inducements, the Speaker disqualified us in an undemocratic manner, at the behest of Mr Chautala," Mr Dalal alleged.
Stating that even the Supreme Court has, on many occasions, refused to interfere once the election process is set in motion by the Election Commission, the Speaker's decision to disqualify six MLAs a few days ahead of the Rajya Sabha poll without giving due chance to the aggrieved party is case of blatant interference in the election process and "against the spirit of the Constitution".
Pointing towards three other independent MLAs — Mr Tej Bir Singh, Mr Daryav Singh and Mr Udai Bhan — who were also present at the press conference, Mr Dalal apprehended that they, too, might be disqualified on June 28, the day of poll, as they had also decided not to vote for Mr Tarlochan Singh.