PUNJAB
HARYANA
JAMMU & KASHMIR
HIMACHAL
REGIONAL BRIEFS
NATION
OPINIONS
MAILBAG
BUSINESS
SPORTS
WORLD

Sunday, June 27, 2004, Chandigarh, India
Updated at 3:00 am (IST)

Militants massacre 12 in Poonch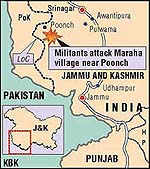 Jammu, June 26
Pakistani terrorists massacred seven members of the village defence committee and their five children at Tiali Katha in Surankot tehsil of Poonch district last night. All the slain persons were Muslims of the small hamlets of Marrah and Dafali that had refused to follow the diktats of terrorists.


In video (28k, 56k)

J&K page: Two ultras, jawan die in encounter

CBI probe into engineer's killing demanded

CAST YOUR VOTE
Should Governors resign once a government changes at the Centre?

EDUCATION
JOBS & CAREERS
HEALTH & FITNESS
FORUM
SCIENCE & TECHNOLOGY
SPORTS
WOMEN
TRIBUNE CLASSIFIEDS
BRIDES WANTED
GROOMS WANTED
OTHERS
HOW TO PLACE ADVTS
Jamali quits as Pak PM


Islamabad, June 26
After only 20 months in office, Pakistan Prime Minister Zafarullah Khan Jamali today resigned capping months of strained relations with President Pervez Musharraf and nominated his party PML-Q President Chaudhury Shujat Hussain to succeed him.
Jamali's resignation to have no impact
New Delhi, June 26
The resignation of Pakistan Prime Minister Mir Zaffrullah Khan Jamali will not have any impact on the Indo-Pak Foreign Secretary-level talks beginning here tomorrow, sources here told The Tribune today.

Pakistan Foreign Secretary Riaz Khokhar, flanked by Pakistan High Commissioner Aziz Ahmed Khan (left) and Indian High Commissioner to Pakistan Shivshankar Menon (right), on his arrival in New Delhi on Saturday. — PTI photo
Today in Women
THE TRIBUNE MAGAZINES
On Sundays

On Saturdays

Himachal page: Cut mullahs' role, says former Pak General

World page: USA welcomes Indo-Pak reciprocal steps
After ministers, it is resignation time for board chiefs
Chandigarh, June 26
After Minister, all other political appointees such as chairpersons of various boards, corporations and other organisations including Municipal Corporations have also submitted their resignations to the Punjab Chief Minister, Capt Amarinder Singh.

Advani meets PM, decries pressure on Governors to quit
New Delhi, June 26
The Opposition has taken exception to the pressure being put by the Congress-led UPA government on Governors appointed by the previous NDA dispensation having strong BJP-RSS leanings to resign.
Raje meets Manmohan, seeks special package
New Delhi, June 26
Rajasthan Chief Minister Vasundhara Raje met Prime Minister Manmohan Singh and demanded a special package from the Centre for the development of 16 desert districts of the state.

Yash Johar dead


Expulsion at Chautala's behest, say MLAs
New Delhi, June 26
In a last-ditch effort to protect their voting right for the June 28 Rajya Sabha poll, the disqualified Haryana MLAs are contemplating moving a fresh petition in the Supreme Court or Punjab and Haryana High Court against state Assembly Speaker Satbir Singh Kadian's decision to expel them under the anti-defection law.


Nation page: Disqualification raises legal question


Kiran Choudhary's
hopes dashed
June 26, 2004
PM for new deal to rural India
June 25, 2004
BJP skips Hindutva, targets Sonia
June 24, 2004
Return to basics, BJP chief tells party cadre
June 23, 2004
Natwar strikes a chord with Kasuri
June 22, 2004
Indo-Pak moratorium on N-tests
June 21, 2004
Indo-Pak nuclear CBM talks on right track
June 20, 2004
Modi may go
June 19, 2004
Gujarat to be discussed in Mumbai: Vajpayee
June 18, 2004
24 dead, 60 hurt in rail mishap
June 17, 2004
Petrol, diesel, LPG to cost more
June 16, 2004