PUNJAB
HARYANA
JAMMU & KASHMIR
HIMACHAL
REGIONAL BRIEFS
NATION
OPINIONS
MAILBAG
BUSINESS
SPORTS
WORLD

Thursday, July 22, 2004, Chandigarh, India
Updated at 3:00 am (IST)

Where is Sibu Soren?
Police searches residence, pastes arrest warrant
New Delhi, July 21
The Jharkhand police today continued its search to arrest elusive Union Coal and Mine Minister Sibu Soren in connection with a 30-year-old massacre case.


CAST YOUR VOTE
Is the Left right in demanding that the FDI cap hike be rolled back?


EDUCATION
JOBS & CAREERS
HEALTH & FITNESS
FORUM
SCIENCE & TECHNOLOGY
SPORTS
WOMEN
TRIBUNE CLASSIFIEDS
BRIDES WANTED
GROOMS WANTED
OTHERS
HOW TO PLACE ADVTS
Delhi police personnel sticking the arrest warrant issued by a court of Jharkhand against Union Coal Minister Sibu Soren, at the entrance of his official residence in New Delhi on Wednesday.
— PTI photo
MPs jam House business on Sibu Soren

Editorial: Show him the door

Nation page: Congress comes in defence of Sibu

Pak vows to deal with terrorism
Islamabad, July 21
India today conveyed to Pakistan its concerns over cross-border terrorism and asserted that there was no simplistic solution to the vexed Kashmir problem.


Pak to release Indian Sikhs

Graphics: SAARC ministerial meet

Proposal to settle the Kashmir dispute

Editorial: Scourge of SAARC

Opinions page: Gas pipelines via Pakistan

Agreement on water sharing


SPECIAL FEATURE
Fire: How safe are our schools? — A Tribune survey
As many as 90 children were burnt alive when fire engulfed Lord Krishna Higher Secondary School at Kumbakonam in Tamil Nadu on Saturday morning.

FORUM
THE TRIBUNE MAGAZINES
On Sundays

On Saturdays

IN PASSING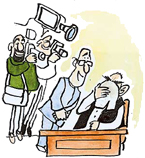 No need to hide your face, Sir. You are now an honourable minister.

by Sandeep Joshi
(Click to enlarge)

Transaction tax rolled back partially, FDI cap hike stays
New Delhi, July 21
Acceding to the demands of the capital market intermediaries Finance Minister P. Chidambaram today announced a differential structure of transaction tax.


Business page: Transaction tax cut buoys bourses
Shiv Sena puts BJP in spot over Thakur
New Delhi, July 21
Congress nominee for the Rajya Sabha deputy chairpersonship K. Rehman Khan is heading for a win in a symbolic contest tomorrow against Shiv Sena's candidate Eknath Thakur.

Andhra lifts ban on PWG
Hyderabad, July 21
Demonstrating its commitment to the ongoing peace talks with Naxalites, the Congress Government in Andhra Pradesh today decided to lift the ban on the People's War Group, meeting one of the major demands of the extremist organisation.


Graphic: Area affected by PWG activities


Woman, infant crushed to death
Mob tries to lynch tractor-trailer driver
Jalandhar, July 21
Tension engulfed the Buta Mandi area of this city as a tractor-trailer, which hit and trampled a 30-year-old woman and her two month old daughter to death, was set ablaze by hundreds of irked residents of the area.

The tractor-trailer, which was set ablaze by a mob after a young woman and her two-month-old daughter were crushed to death in the Buta Mandi area of Jalandhar City on Wednesday.
— Photo by Pawan Sharma

Eradicate terror, India tells SAARC
July 21, 2004
Centre may go in for Presidential reference
July 20, 2004
Cap transfer industry, Manmohan writes to CMs
July 19, 2004
TN tragedy toll 90; five held
July 18, 2004
87 school kids burnt to death in TN
July 17, 2004
Fresh Godhra probe rocks Parliament
July 16, 2004
"What do you think...," PM pulls up Capt
July 15, 2004
Punjab legislation rocks Parliament
July 14, 2004
Punjab annuls all water pacts
July 13, 2004
SAD sweeps SGPC election
July 12, 2004