PUNJAB
HARYANA
JAMMU & KASHMIR
HIMACHAL
REGIONAL BRIEFS
NATION
OPINIONS
MAILBAG
BUSINESS
SPORTS
WORLD
Tuesday, August 10, 2004, Chandigarh, India
Updated at 3:00 am (IST)

Kargil PoWs return
Wagah, August 9
"We want to rejoin our units at the earliest so that we can serve the country till our last breath", was the spontaneous reaction of Lance Naik Jagsir Singh and sapper Mohd Arif both prisoners of war (PoW) —when they crossed over to India following their repatriation by Pakistan, here today.


Punjab page: Were Jagsir, Arif declared deserters in haste?

Kot Bhai erupts in celebrations
CAST YOUR VOTE
Do you feel that not enough attention is paid to safety at construction sites?

ILLEGAL CREMATIONS
CHANDIGARH
Jalandhar
DELHI
EDUCATION
JOBS & CAREERS
HEALTH & FITNESS
FORUM
SCIENCE & TECHNOLOGY
SPORTS
WOMEN
TRIBUNE CLASSIFIEDS
BRIDES WANTED
GROOMS WANTED
OTHERS
HOW TO PLACE ADVTS

| | |
| --- | --- |
| | Sapper Mohd Arif (left) and Lance Naik Jagsir Singh, who were released by Pakistan, on their arrival at the Wagah border, Amritsar, on Monday. — Photo by Rajiv Sharma |
China planning limited blast to puncture lake
New Delhi, August 9
China has assured India that it would attempt a "limited blast" in the lake in Tibet on Sutlej tributary to release the accumulated water in a controlled manner.
Graphic: Artificial dam created by landslides

MEA: China cooperating on Tibet lake
Parchu panic grips HP
4000 shifted to safety
Shimla, August 9
Panic gripped people living along the 300-km-length of Sutlej from Kinnaur to Bilaspur as flash floods due to the overflowing of the lake formed in Tibet due to the blockage of Parchu, a tributary, appeared imminent.


In video (28k, 56k)


THE TRIBUNE MAGAZINES
On Sundays

On Saturdays

IN PASSING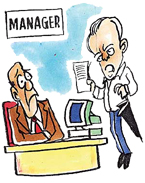 Please cancel my application for a car loan. Instead, give me a boat loan.

by Sandeep Joshi
(Click to enlarge)
EPF rate cut to 8.5 per cent
New Delhi, August 9
In a major jolt to more than 30 million salaried employees, the Employees Provident Fund Organisation board today reduced the provident fund interest rate to 8.5 per cent, amid protests from the trade unions threatening to launch nationwide agitation. (Details on Business page)

Trapped workers live to tell a heroic tale
Barshaini, (Kullu) August 9
Like heroes 20 workers trapped inside the Parbati hydel project tunnel mounted the blower pipe, an oxygen supply line and hammered their way through the narrow blower pipe filled with silt and debris.
Flood threat: walls to protect Kol Dam tunnels
Chandigarh will be ours, says Amarinder
Chandigarh, August 9
The Punjab Chief Minister, Capt Amarinder Singh, today added a new dimension to the on going political controversies in the region. Addressing a gathering of students, teachers and other academician at Guru Gobind Singh College for Girls here, Capt Amarinder Singh said that "he was hopeful the Chandigarh, would be transferred to Punjab soon".
It belongs to Haryana, says Chautala



Jobs & Careers
In Education Tribune today
20 trapped inside Parbati tunnel
August 9, 2004
Release of hostages any moment
August 8, 2004
Hostages may be freed by Sunday
August 7, 2004
Ultras gun down nine CRPF men
August 6, 2004
4 more meet watery grave
August 5, 2004
Torrential rain claims 8 lives
August 4, 2004
Hostages are safe
August 3, 2004
Conflicting reports on hostage crisis
August 2, 2004
The Hostages crisis
August 1, 2004
Captors extend deadline
July 31, 2004