Tribune Impact
Plant restrained from dumping ash
Ghanauli (Ropar), September 6
The Punjab Pollution Control Department today directed the Guru Gobind Singh Super Thermal Plant not to dump ash in the stage-1 dyke, after inspecting the leakage of the contaminated water from it, as it was more prone to disaster.
Tourism corpn staff in a soup
Unpaid bills of state guests
Gurdaspur, September 6
The Punjab Tourism Development Corporation has decided to hold its employees responsible for the recovery of outstanding bills of state guests of the Punjab government.


USA releases postage stamp
Amritsar, September 6
For the first time the US Postage Service has issued a postal stamp depicting Golden Temple to commemorate the 400th year of the installation of Guru Granth Sahib. Dr Harbans Lal, Professor Emeritus, Guru Nanak Dev University, conveyed this to the Vice-Chancellor of GND varsity, Dr SP Singh.

Samta Samaj Party to contest byelections
Jalandhar, September 6
The Samta Samaj Party, Punjab, has decided that it will contest the forthcoming byelections. A decision in this regard was taken at a meeting held under the chairmanship of its state president, Mr Darshan Singh Jethumajara, here today.


Embassy asked to take up turban issue
Amritsar, September 6
The External Affairs Ministry has asked the Indian Embassy in France to take up the turban ban issue with the French Government.
Baba Farid Mela to strengthen Indo-Pak ties
Faridkot, September 6
While delegations from India and Pakistan have been making efforts to strengthen ties between the two countries, Baba Farid Mela which will be organised here from September 15 to 23 will play a key role in this regard.
Mazdoor Mukti Morcha dharna against anti-labour policies
Barnala, September 6
Activists of the Punjab Mazdoor Mukti Morcha today staged a dharna in protest against the anti- labour policies of the government. They started their protest procession from 22 Acre Scheme near the local Improvement Trust office.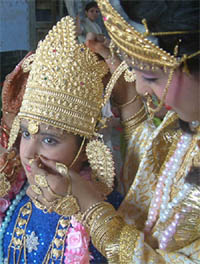 Janmashtami celebrated with fervour
Amritsar, September 6
The Sri Gopal Krishan Seva Society today took out a religious procession on the eve of Janmashtami. The procession started from Chhoti Dhab and passed through various bazars, including Chintpurni Chowk, Namak and Dal mandis, Shastri Market, Telephone Exchange, Katra Praja, Shakti Nagar, Lohgarh Gate, Dhab Khatika, Kila Bhangia and culminated at Dhab Vasti Ram.



Final touches being given to a person dressed as Lord Krishna on the occasion of Janmashtmi celebrations in Amritsar on Monday. — Tribune photo by Rajiv Sharma

Weapons brought back from Jharkhand
Ludhiana, September 6
The Punjab police has brought back a huge cache of arms and ammunition from Jharkhand and deposited the same with the Ropar district police. The weapons with ammunition were issued to a Punjab VIP for his security during the militancy and were left back in the factory of the VIP at Jamshedpur in Jharkhand state after the factory was sold.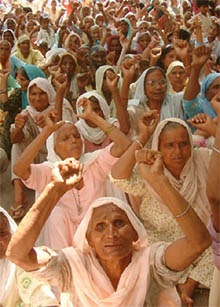 Members of the Dehati Majdoor Sabha, Punjab, hold a protest against the non-payment of old-age pension, in Amritsar on Monday. — Photo by Rajiv Sharma

Death penalty for rapists sought
Sangrur, September 6
Expressing concern about the increase in rape cases, especially those involving infants and minor girls, Mr Ashi Goyal, general secretary of the Adhivakta Parishad, Punjab, today urged the Union Government to enact a law with a provision for death penalty for rapists.
Doctors refuse to contribute to CM's Relief Fund
Bathinda, September 6
The Bathinda branch of the Indian Medical Association (IMA) has decided not to contribute to the Chief Minister's Relief Fund and at the same time has lodged a complaint against the state Finance Minister, Mr Surinder Singla, to the All- India Congress Committee President, Ms Sonia Gandhi, for alleged disparaging remarks made by him (Mr Singla) against medical professionals.
6-member police team for training in European Alps
Patiala, September 6
A six-member mountaineering team of the Punjab Police Adventure Sports Club is set to leave for a training course in mountaineering in the European Alps. The team will spend three weeks in European climbing centres in Switzerland and France beginning the first week of September.


Terrorists remanded in police custody
Pathankot, September 6
All five terrorists trying to revive terrorism in Punjab and its adjoining states were remanded in police custody till September 12 by Mr Ranjit Singh Duty Magistrate, last evening.


Deaf and dumb girl raped, pregnant
Barnala, September 6
A deaf and dumb girl, aged 14 and a resident of this town, has become pregnant allegedly as a result of repeated rape by Harvinder Singh, a 28-year-old married man living in her neighbourhood. He allegedly raped the school girl over several months. The girl is six months pregnant now.
Case registered against TV journalist
Bathinda, September 6
A case has been registered against Rajiv Singla, a correspondent of Jain TV, and another person identified as Mr Bansal for their alleged involvement in the blackmail of a local doctor running a clinic here.
Youth found murdered; residents block traffic
Jalandhar, September 6
The body of Saudagar Ram alias Kala was found in a vacant plot near Khambra village today. The police had, last night, registered a case on the statement of Sunita Rani, wife of the deceased, who alleged that her husband Kala was kidnapped by Akshay, Satish, Manjit Singh, Surjit Singh Bitti and Gogna, when he was returning home after attending a cultural function in the Buta Mandi area.
Rs 8,000 robbed from liquor shop
Kharar, September 6
Cash was taken away at gun point by unidentified persons from a liquor vend in Jhanjeri village, near here, last night. It is reported that three persons on a motor cycle reached the liquor vend in the village and asked the employees on duty to hand over the cash to them.
Scooterist crushed to death
Lalru, September 6
A scooterist was crushed to death when a truck approaching from the opposite direction collided head-on with his scooter on the busy Kalka-Ambala highway in Lehli village near here, late last night.
Eight nabbed for immoral trafficking
Amritsar, September 6
The district police today nabbed eight persons, including four women, allegedly for immoral trafficking here last evening. A case under Section 3/4/5/7 of the Prevention of Immoral Trafficking Act was registered at Vijay Nagar police station here today.


Physiotherapy students block traffic
Faridkot, September 6
Students of Bachelor of Physiotherapy (BPT) of the Adesh Institute of Medical Sciences, Muktsar, today blocked traffic in front of the Baba Farid University of Health Sciences for about an hour. The blockade affected traffic on the Faridkot-Kotkapura road.
Students force private buses off road
Mansa, September 6
The call to stop private buses from plying in this district today given by the common front of various student organisations to protest against the "highhandedness" of private bus operators received a good response.
Baba Ajit Singh donates Rs 20 lakh for students
Patiala, September 6
Sant Baba Ajit Singh, Nirmal Dera, Hansali, Fatehgarh Sahib district has given Rs 1.50 lakh and a draft for Rs 1.25 lakh to the Vice-Chancellor, Punjabi University, for 10 students for six years at Yadvindra College of Engineering, Talwandi Sabo, here today.
Teachers felicitated for outstanding performance
Abohar, September 6
Mrs Sandhya Jindal, Principal of Guru Teg Bahadur Senior Secondary School, Gidderbaha, was honoured along with other local teachers for outstanding academic and social services at a function organised by the Punjabi Sabhyachar Manch on Teachers' Day here yesterday.
School celebrates Janmashtami
Kharar, September 6
Janmashtami was celebrated with great enthusiasm in various schools here today. Students of Little Blossoms took part in various activities organised in connection with Janmashtami celebrations at the school. Beautiful jhankis, showing different episodes of the life of Lord Krishna, were prepared.


Transparent cabins for Internet cafes on cards
Patiala, September 6
Dark spacious wooden cabins in Internet cafes, built with the purpose of providing complete privacy to young users who frequent there are likely to become a thing of the past with the district police asking all Internet cafe owners to install transparent cabins, besides directing them to keep a check on pornographic material in the cafes.