PUNJAB
HARYANA
JAMMU & KASHMIR
HIMACHAL
REGIONAL BRIEFS
NATION
OPINIONS
MAILBAG
BUSINESS
SPORTS
WORLD

B U S I N E S S

RBI hikes CRR for banks in bid to contain inflation
Mumbai, September 11
The Reserve Bank of India (RBI) today announced an increase in the cash reserve ratio of the banks by 0.5 per cent to five per cent of their net demand and time liabilities. The increase will be undertaken in two stages beginning fortnight September 18.
Jet announces new fares
New Delhi, September 11
In another competitive measure to offer lower air ticket rates, Jet Airways today announced the launch of a new series of fares to enable passengers make substantial savings on tickets on select flights from Monday without the need to book in advance.
SIA to buy 31 Boeing aircraft
Chandigarh, September 11
Singapore Airlines (SIA) has signed a letter of indent to purchase up to 31 Boeing B 777-300ER (extended range) aircraft.
Aviation Notes
Train first, fly them later
Penny wise and pound foolish appears to be Air-India's philosophy. By placing untrained cabin crew members on flights on the plea that 'they are only responsible for inflight hospitality services' is not only unconvincing but also comprises on the tough security norms.
Investor guidance
TDS not applicable on Senior Citizens Savings Scheme
Q: Rules of the Senior Citizens Savings Scheme have now been notified. The provisions of TDS are unclear and some of the post offices (in Thiruvananthapuram) have informed the elderly that TDS will apply in all cases.


| | |
| --- | --- |
| | Walt Disney Chief Executive Michael Eisner said on Friday that he would step down from the media conglomerate in 2006 aiming to end his two-decade reign on his own terms after a shareholder revolt nearly cut it short earlier this year. Mr Eisner poses with Disney character Donald Duck in this file photo. — Reuters |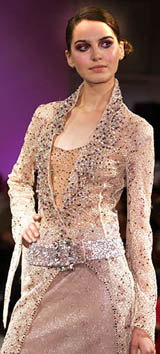 A model displays an outfit by Lebanese designer Piere Katra during a fashion show titled, Lines of Fashion, in Beirut on Saturday. — AFP
BoB, Dena Bank to hit market with issues
September 11, 2004
Govt to encourage mergers of banks: FM
September 10, 2004
MTNL also jumps into rate-cut fray
September 9, 2004
Working conditions for women discriminatory: ILO
September 8, 2004
Cell operators leave
Trai meeting on
spectrum issue
September 7, 2004
Sops on anvil for making power from waste
September 6, 2004
PM rules out legislation on quota in pvt sector, hopes to arrest inflation
September 5, 2004
Inflation breaches 8 pc mark
September 4, 2004
National Tax Tribunal Bill cleared
September 3, 2004
Nath feels need to relook at export chain
September 2, 2004