PUNJAB
HARYANA
JAMMU & KASHMIR
HIMACHAL
REGIONAL BRIEFS
NATION
OPINIONS
MAILBAG
BUSINESS
SPORTS
WORLD

B U S I N E S S

FM radio policy within few weeks, says Reddy
New Delhi, September 28
The government will announce the national FM radio policy in the next few weeks, after getting recommendations from the Telecom Regulatory Authority of India (Trai), said Union Minister of Information Technology Jaipal Reddy here today.
PC favours flexibility in labour market
New Delhi, September 28
Finance Minister P. Chidambaram today called for introducing flexibility in the labour market to generate more jobs in the country.
Tata rings the bell at NYSE
New York, September 28
Shares of Tata Motors, a major manufacturer of cars in India, have been listed on the New York Stock Exchange (NYSE), the world's largest.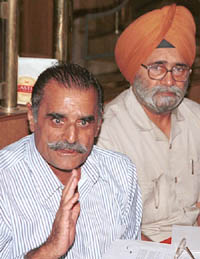 Insurers to oppose FDI hike move
Chandigarh, September 28
The All-India Insurance Employees' Association will agitate against the proposed move of increasing Foreign Direct Investment (FDI) in the insurance sector from the existing 26 per cent to 49 per cent.

Mr R.P. Manchanda (Left) and President NZIEA S.S. Kooner speak at a press conference in Chandigarh on Tuesday. — A Tribune photo

MP attracting industries again
Bhopal, September 28
Madhya Pradesh has received proposals for the establishment of industries involving a capital investment of Rs 2770 crore.

GSM players may approach court
Singapore, September 28
Amid a raging controversy over allocation of spectrum band between GSM and CDMA operators, Sunil Mittal of Bharti Group today cast apprehensions on the consultation process by telecom regulator Trai.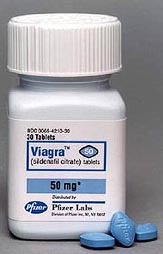 Half of the Viagra anti-impotence pills sold on the Internet could be counterfeit, British scientists say. They analysed samples of Viagra sold on the web and found that some of the little blue pills contained different components or less of the active ingredients.
— Reuters

North emerges as hub for food processing industry
September 28, 2004

IT companies prefer Kolkata to Gurgaon
September 27, 2004

A-I chief favours merger with Indian Airlines
September 26, 2004
Suzuki investment shot in arm for PC
September 25, 2004
Centre to compensate states for Vat
September 24, 2004
Suzuki bows, minister says it's happy ending
September 23, 2004
India, Iran to sign oil exploration pact soon
September 22, 2004
India, UK decide to set up a joint economic panel
September 21, 2004
NDA govt wanted to sell telecom giants, says minister
September 20, 2004