In video
Direct flights between Singapore and Amritsar launched.
(28k, 56k)
Smart identity cards for cops
Chandigarh, October 2
Techno-savvy Punjab Police authorities are getting all the more smarter, literally. The cops have decided to introduce the concept of "smart identity cards" for the entire police force.

NRI among four booked on fraud charges
Moga, October 2
Four persons, including an NRI, have been booked for duping a Ferozepore girl and her father of Rs 10 lakh on the pretext of sending her abroad. Sources said the complainant Santokh Singh had family relations with a Buggipura resident, Nirmal Singh.

Water a national problem: Jeyaseelan
Chandigarh, October 2
While the demand for water is shooting up, the availability of water remains the same in the country. Consequently, water has become a national problem. But no immediate solution of this problem is in sight.


Punjab Police for Maharashtra, UP
Hoshiarpur, October 2
Mr D.R. Bhatti, Additional Director-General of the Punjab Armed Police, said 25 companies of the police and Home Guards from Punjab would be sent to Maharashtra and Uttar Pradesh for security during the Assembly elections and byelections of some of the Parliament and state Assembly segments there, respectively. He was talking to mediapersons at Canal Rest House here today.
Bhattal visits mental hospital, medical college
Amritsar, October 2
Deputy Chief Minister Rajinder Kaur Bhattal, in a surprise visit to the local government institute of mental care and government medical college and hospital found serious drawbacks in both institutes.


Tributes paid to national martyrs
Ferozepore, October 2
The Golden Arrow Division of the Indian Army, organised a function at the samadhi of Shaheed Bhagat Singh, Rajguru and Sukhdev situated near the Indo-Pakistan border, to pay tribute to the national martyrs, on the occasion of Gandhi Jayanti today.


Schoolchildren and NCC cadets plant trees at National Martyrs Memorial, Hussainiwala, during a function organsied by Golden Arrow Division of the Army on the occasion of Gandhi Jayanti.

SBP employees oppose FDI
Patiala, October 2
The 19th convention of the State Bank of Patiala Employees Federation commenced at the local Polo Ground today with thousands of employees from all over the country gathering to attend the rally.

Member of Parliament and General Secretary of AITUC Gurudas Dasgupta and Secretary, AIBEA. C.H. Venkatachalam at the 19th Conference of All-India SBOP Employees Federation at Polo Ground in Patiala on Saturday. — PTI photo


Need for senior citizens homes stressed
Faridkot, October 2
A district-level function, organised by the Elders Service Society here today to commemorate the World Elders Day, impressed upon the Punjab Government to set up day-care centres and senior citizens homes at the block and district levels for proper rehabilitation of the elders in the state.
Cop killed as bus falls into nullah
Kiratpur (Ropar) October 2
One constable of the Himachal police was killed, while 18 others including nine police personnel and nine inmates, were injured when the police bus in which they were travelling rolled down into a nullah at Kiratpur, about 40 km from here, today.


SC acquits orthopaedist
Patiala, October 2
The Supreme Court has acquitted noted orthopaedician, Dr Hardeep Singh Sohal, who was earlier sentenced to life imprisonment by a designated TADA court. Dr Sohal was released from the Nabha jail yesterday evening.


Rain has farmers worried
Chandigarh, October 2
Besides impeding the procurement of paddy at various places in Punjab and Haryana, the widespread rainfall today caused damage to the paddy crop at several places in both the states. At certain places fast-blowing winds flattened the standing paddy crop.
Paddy procurement
Phagwara, October 2
Mr B.C. Gupta, Principal Secretary, Food and Supplies Department, Punjab, inspected the main mandi here last night. He also inspected mandis of Behram, Banga, Balachaur and Kartarpur for taking stock of the paddy purchase and expressed satisfaction over the ongoing procurement arrangements of paddy, an official press note issued today said.


5 Punsup officials suspended
Faridkot, October 2
Five officials of Punsup, including its district manager have been suspended for misappropriating wheat and rice worth about Rs 2 crore in connivance with three sheller owners.


Sarpanch's husband shot dead
Bathinda, October 2
The husband of Gidar village's Sarpanch and a Youth Congress leader, Gurcharan Singh Charna, was shot dead at the village last evening. Four persons, including the candidate whom his wife defeated in the panchayat elections and her husband, have been booked in this connection.
Akali leader held for duping elderly
Moga, October 2
The Economic Offences Wing has arrested an ex-servicemen and Akali leader, Resham Singh for duping many elderly persons of their money under the pretext of helping them get their pension. The accused had been evading arrest for the past one year.
Four cops dismissed for helping smuggler
Batala, October 2
The Batala SSP, Mr Ram Singh, has dismissed four policemen for allegedly helping a notorious smuggler from a hospital. They have also been accused of helping the escapee in smuggling operations.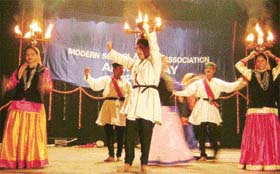 Artistes from Himachal Pradesh dance during the alumni day celebrations organised by the Modern School Alumni Association at Central State Library in Patiala on Saturday. — A Tribune photograph
800 students take part in IT festival
Amritsar, October 2
More than 800 IT students drawn from various universities, colleges and IT institutes of North India participated in the three-day national-level technical-cum-cultural festival, "La-Fiesta-2004", at Guru Nanak Dev University, here today.
College holds seminar
Kharar, October 2
A seminar on "Diploma in business management" was organised at the Guru Gobind Singh College of Modern Technology, here today.