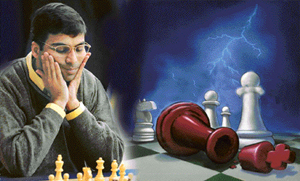 King of the Game
He is the master of moves. On top board in the ongoing Chess Olympiad at Mallorca in Spain, India's first Grandmaster Viswanathan Anand seems all set to win more laurels. The country's first International Master Manuel Aaron looks at the winning ways of our finest chess champion.

Reputed to be one of the richest sportsmen in the country, the thing about Viswanathan Anand which stands out is his modesty and total lack of airs. A thorough gentleman, he comes from an illustrious family. He has never been haughty. And nobody has seen him angry or heard him raise his voice.

Haute talk
Fashion's charitable season
It's Santa Claus season for Indian fashion as designers do a good turn using their style prowess to gather funds for causes. Two of the most prominent people doing this are the fashion house of Satya Paul and designer Raghavendra Rathore.

What a Prerna
Minna Zutshi on the three Jalandhar compkids who have developed a supercomputer
If you think success is heady and it trills its way to smugness, take some time off to meet barely-out-of-teens B Tech Computer Science Part III students Abhinav Dhall and Vibhore Kumar Jain and their twenty-something teacher-mentor Sandeep Kath.

Future is Hinglish, not English
"Hinglish", or the variety of English spoken in India, will soon become the most commonly spoken form of the language globally, a leading British language expert has predicted. "Already, a third of Indians are speaking the language, a percentage expected to rise in coming years.