M A I N N E W S
Two students die as live wire falls on school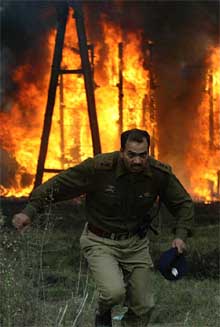 A police officer runs in front of a burning transformer after two schoolchildren were killed when a live electric wire fell on their school compound in Shariefabad on Monday. — Reuters photo
Srinagar, October 18
Two students, including one of kindergarten, were killed and six critically injured when they came in contact with a live electric wire that fell on a government primary school in Badgam district today while the students were appearing in the final term examination.
The incident, which sparked violent protests, occurred when the wire fell on the roof of the school building at Shariefabad, near Zainakote, around 12.30 pm and slid down the fencing of the school, causing panic among the 41 students appearing in the examination, an official spokesman said.
The students while rushing out came in contact with the fencing and two of them — a kindergarten student and the other studying in third standard — got electrocuted while six suffered severe burn injuries and were hospitalised.
The deceased were identified as Tanvir Ahmad of kindergarten and Mohammad Maqbool of the third standard, sources said.
Minister for Power Sharief Niaz said an inquiry would be conducted and those found responsible for negligence would be taken to task.
Residents of the area took to the streets after the incident and staged violent protests against the Power Development Department, the sources said. — PTI