M A I N N E W S
PM opposes artificial constraints on N-tech
Tribune News Service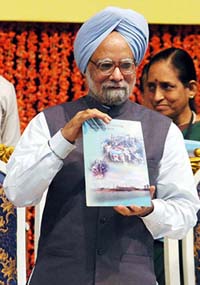 Prime Minister Manmohan Singh releases a book titled 'Department of Atomic Energy — Our Collective Vision' on the occasion of the launch of the commercial phase of India's fast-breeder programme at the Indira Gandhi Centre for Atomic Research in Kalpakkam on Saturday. — PTI photo

Kalpakkam (Tamil Nadu), October 23
The Prime Minister, Dr Manmohan Singh, today sent a signal to the international community regarding India's future policy on nuclear programme by urging it not to impose artificial constraints on a responsible nuclear power like India.

He suggested a "constructive dialogue" between countries with advanced nuclear capabilities and others, who have a stake in the future of nuclear energy, to evolve more effective measures to stem the tide of proliferation without unduly constraining the peaceful uses of nuclear energy.

The Prime Minister inaugurated the Fast Breeder Programme at the Indira Gandhi Centre for Atomic Research (IGCAR) here, 50 km from Chennai.

He said, "constraining those who are responsible, amounts, in effect, to rewarding those who are irresponsible. The international community must face implications of their choice."

Without pointing a finger at advanced nations which wanted globalisation to further their business interests in Third World countries but at the same time wanted India to sign the nuclear non-proliferation treaty, he said: "We in India are willing to shoulder our share of international obligations, provided our legitimate interests are met. India has actively embraced globalisation. There is no reason why nuclear energy production should be an exception."

The Prime Minister guaranteed that India would not be a source of proliferation of sensitive technologies and said, "the limitation of the present non-proliferation regime should not be further accentuated by artificial restrictions on genuine peaceful nuclear applications."

"Technology denial and closing avenues for international cooperation in such an important field is tantamount to the denial of developmental benefits to millions of people, whose lives can be

transformed by the utilisation of nuclear energy and relevant technologies," he added.

The Prime Minister pointed out, "India is a responsible nuclear power. We are fully conscious of the immense responsibilities that come with the possession of advanced technologies, both civilian and strategic."

Again without naming Pakistan, he said, "we will also ensure the safeguarding of those technologies that we already possess. We will remain faithful to this approach, as we have been for the past several decades. We have done so despite the well-known and glaring examples of proliferation, which have directly affected our security needs."

Talking about the country's future nuclear programmes, the Prime Minister said, "we have embarked on a major programme to generate 20,000 mw of nuclear power by 2020. By 2008, we hope to add 4000 mw, including the two 1000-mw nuclear reactors coming up at Koodamkulam in collaboration with the Russian federation."

He said India was also among the select group of nations, which had the ability to recover plutonium from irradiated nuclear fuel and use it to produce power in thermal, as well as in fast reactors.

Assuring top nuclear scientists present here, he said, "the technology roadmap prepared by the Department of Atomic Energy for this purpose will receive the government's support. The fast breeder reactor technology is of crucial importance in enhancing the country's nuclear power."

Referring to sanctions on India after the Pokhran experiment in 1998 he observed that the Atomic Energy Department had been able to consolidate and strengthen indigenous capabilities in the face of externally imposed limitations and constraints.

Commending Indian scientists, the Prime Minister said, "despite these limitations, Indian scientists have excelled time and again in demonstrating the country's indigenous capabilities, measuring to the highest standards in the global nuclear industry.