PUNJAB
HARYANA
JAMMU & KASHMIR
HIMACHAL
REGIONAL BRIEFS
NATION
OPINIONS
MAILBAG
BUSINESS
SPORTS
WORLD
S P O R T S

Sachin fit for Nagpur Test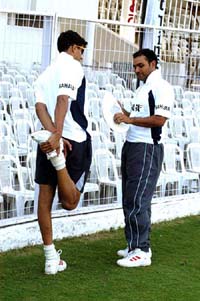 Mumbai, October 23
India's star batsman Sachin Tendulkar has been declared fit for the third cricket Test match against Australia in Nagpur beginning on Tuesday.
Can use heavy bat: doc

Return lifts spirits in Indian camp

Ponting welcomes Sachin's return


Virender Sehwag (R) and Ashish Nehra have a chat at the VCA stadium in Nagpur on Saturday. The third Test between India and Australia starts here on October 26. — PTI photo


Jayasuriya, Fernando leave Pak struggling


Faisalabad, October 23
Opening batsman Sanath Jayasuriya smashed a record-breaking double century and Dilharo Fernando punished the Pakistan batting line-up to put Sri Lanka in a firm position in the first cricket Test here today.
Pathan may be fit for Mumbai Test
October 23, 2004
Brett Lee not in scheme of things, says Ponting
October 22, 2004
Decision on Sachin's fitness by Oct 24
October 21, 2004
Tendulkar begins batting practice
October 20, 2004
Rain plays spoilsport as Test ends in a draw
October 19, 2004
Martyn's ton throws match wide open
October 18, 2004
Kumble, Kaif help India grab initiative
October 17, 2004
Sehwag's ton gives India the edge
October 16, 2004
7-wkt Kumble destroys Australia
October 15, 2004
Yuvraj may open, Kaif to replace Chopra
October 14, 2004