Bibi Jagir Kaur lashes out at Mann
Amritsar, October 24
Bibi Jagir Kaur, SGPC President, today lashed out at Mr Simranjit Singh Mann, president of the SAD (A), for holding demonstrations against her. She alleged that the people discarded the SAD (A) during the last parliamentary elections as also in the SGPC general elections.
Mayawati anti-Dalit, anti-poor: Nahar
Phagwara, October 24
National President of Bahujan Samaj Party (Ambedkar) Devi Dass Nahar today told a meeting of workers of the Phagwara Assembly here that BSP President Ms Mayawati was anti-Dalit and anti-poor.


'Pesticides hamper child development'
Ludhiana, October 24
Children in Bathinda have slower physical and mental development than their counterparts in Ropar, thanks to the excessive usage of pesticides. Children in cotton-growing areas have shown slow development, says a study conducted by Green Peas along with Kheti Virasat, an organisation working towards conservation of ecology, water and soil.
3 in race for market committee chief's post
Pathankot, October 24
As the Punjab Congress high command has invited applications for the post of chairman, Pathankot Market Committee, the race between the various factions of the Congress has hotted up.


Ghulam Ali to sing Gurbani
Amritsar, October 24
History of sorts would be created in the world of music when legendry ghazal singer of Pakistan, Ghulam Ali, and hazoori raagi, Bhai Nirmal Singh, would cut a joint album of shabad kirtan to mark the golden jubilee celebrations of singing of the former.

Ghazal maestro Ghulam Ali and Bhai Nirmal Singh, who will bring out a joint album of shabad kirtan to mark the golden jubilee of the singing of Ghulam Ali.






Pak troupe stages 'Patay Khan'
Amritsar, October 24
'Patay Khan' a Pakistan's Punjabi satire directed towards the ruling class, was staged at the local DAV College sports grounds last night.

Artistes of the Rafi Peer Theatre Group, Lahore, enact 'Patay Khan' in Amritsar on Saturday. — Photo by Rajiv Sharma


Audience sways to Pak artistes' dhol
Amritsar, October 24
Performance on 'dhol' by Goonga Sayin Dholiya and Mithu Sayin Dholia from Punjab, Pakistan last evening at the Ram Bagh gardens, the summer palace of Maharaja Ranjit Singh, was a rare treat for Punjabis here.
Society wants youth in Pak jail freed
Amritsar, October 24
The International Bhai Mardana Yadgari Kirtan Darbar Society here today appealed to the Prime Minister, Dr Manmohan Singh, and members of the National Assembly of Pakistan to arrange the early release of 22 Indian youths languishing in Central Jail, Mach, in Balochistan.
'Chup de Jangal Vich...' released
Fatehgarh Sahib, October 24
Dr Harbans Lal, Chief Parliamentary Secretary, today released a book "Chup de Jangal Vich Guachi Hook" comprising poems written in Punjabi by Pritpal Singh Gill, an NRI from Canada. The writer has penned poems on almost every topic including love, motherland and social evils.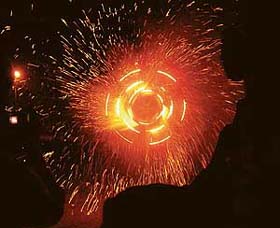 Fire works before burning the effigies of evil at Veer Haqiqat Rai Ground in Patiala on Friday.
— A Tribune photograph
'Operation Sadbhavna'
flagged off
Pathankot, October 24
The essence of 'Operation Sadbhavna', a programme of welfare and awareness, undertaken by the Indian Army was reinforced by the Dah Division.
Declare Ravi Das Mandir historical place: 'dharam sansad'
Phagwara October 24
A 'dharam sansad' held during the ongoing three-day Manavwadi Mahanpurshan da Mela at Shiromani Guru Ravi Das Mandir on GT Road, near Chak Hakim village, adopted four resolutions demanding declaration of the mandir as a historical place and a grant of Rs 25 crore for it.
Aggarsain jayanti celebrated
Fatehgarh Sahib, October 24
The Aggarwal Sabha Sirhind today celebrated Aggarsain jayanti here today by organising an impressive cultural function. Dr Harbans Lal, Chief Parliamentary Secretary was the chief guest, while Mr Pardeep Goyal, Income Tax Officer Sirhind inaugurated the function.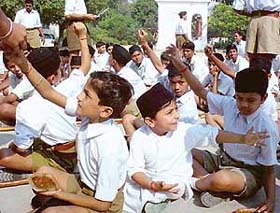 More "kachoris" please, youngsters at an RSS camp held at Veer Haqiqat Rai School in Patiala to mark the organisation's foundation day on Sunday. — Photo by Rajesh Sachar
Train engine derails
Pathankot, October 24
The engine of the 1-JP train bound for Jogindernagar derailed near the Kali Mata Mandir level crossing here this evening. According to eyewitnesses, the train left the Pathankot railway station at 5.40 p.m. and the engine derailed at 5.50 p.m. However, no damage was reported.
Rail commuters write to Laloo
Amritsar, October 24
The Daily Railway Commuters Association has urged Railway Minister Laloo Prasad Yadav with regard to daily passengers' woes.
Eyesight of 2 boys damaged in accidents
Amritsar, October 24
Rohit (7), damaged his left eye while playing with fire cracker on the Dusehra festival celebration which left the family in distress. Dr Rohit Om Prakash attending on him told The Tribune that Rohit had suffered extensive damage to his left eye and he may not be able to see properly for the rest of his life.
Lions Club's Netar-2004 on October 31
Kharar, October 24
Lions Club International District 3121F, will organise, Netar-2004, sight first seminar at Lions Bhawan, Chandigarh, on October 31. Lion Preet Kanwal Singh, a member of the Public Relations sub committee, said that a meeting was held to discuss the arrangements in connection with the seminar.
Custodial death alleged, FIR sought
Sangrur, October 24
A meeting of the action committee, formed in connection with the death of Amrik Singh, son of Mr Kartar Singh of Punnawal village, allegedly on the premises of Sadar police station, Dhuri, on October 8, held here today.
One killed in assault
Hoshiarpur, October 24
Parvinder Singh of Sataur succumbed to his injuries at the local Civil Hospital last night. He, along with Sandip Singh and Rajinderpal Singh, of the same village were seriously wounded when Harpreet Singh, alias Happy, Gurtinder Singh, Surjit Singh, Kulwant Singh, alias Kanta, all of Bassi Kason, and Amrik Singh, alias Laddi, of Tohlian village assaulted them with swords, sickles, etc. at the bus stand of Bagpur Sataur last evening.
One held on murder charge
Kharar, October 24
The police today claimed to have solved the murder case of a Nepalese servant whose body was found in the fields at Chapparchiri village, near here, on Friday. The Ropar SSP, Mr Surinder Pal Singh, said Babblu Yadav had been arrested on the charge of murdering Surat Lal.
25 grenades recovered
Jalandhar, October 24
Panic gripped the Jalandhar Cantonment area as 25 rusted but live HE-36 grenades were found in the basement of an old house in the Lal Kurti Bazaar area of the cantonment today.
Body of girl found
Jalandhar, October 24
The body of a 22-year-old unidentified girl was found in a gunny bag near the Amritsar bypass here this evening. The incident, according to the police, was suspected to be an outcome of illicit relationship.


NCC cadets write touching letter to Musharraf
FEROZEPORE: If pronouncements made by hundreds of NCC cadets, who came to witness the retreat drill at the Indo-Pakistan Hussainiwala Joint Check Post here are any indication, then the day is not far when the governments of the two belligerent nations will be compelled to bury their hostilities in the interest of the people of both countries.