PUNJAB
HARYANA
JAMMU & KASHMIR
HIMACHAL
REGIONAL BRIEFS
NATION
OPINIONS
MAILBAG
BUSINESS
SPORTS
WORLD
N A T I O N

It's Ram for Advani once more
New Delhi, October 27
Mr Lal Krishna Advani, whose elevation to the party's presidentship was endorsed today by the BJP national council, sought to inject the tested elixir of 1985-92 vintage into the party cadres by invoking Hindutva and stressing on Sangh-inspired basics.


Sonia takes CM to task
Assam ministers' alleged links with ULFA
Guwahati, October 27
Congress President Sonia Gandhi today snubbed Assam Chief Minister Tarun Gogoi for not keeping her posted properly about the alleged nexus between a section of the State Cabinet Ministers and ULFA.
Cabinet defers decision on Lok Pal Bill
New Delhi, October 27
Feeling that the discussions on the much-awaited Lok Pal Bill were still inconclusive, the Union Cabinet today decided to defer it till there was a consensus on the issue. The issue was taken up at the meeting presided over by the Prime Minister, Dr Manmohan Singh, but it was apparently felt that more discussions were needed on the Bill which facilitates probe of corruption in high offices.
IMDT Act to be retained
New Delhi, October 27
The government today decided to retain the Illegal Migrants (Determination by Tribunals) Act (IMDT) 1983 and its application to Assam in the present form. The decision was taken at a Cabinet meeting chaired by Prime Minister Manmohan Singh, an official spokesperson said.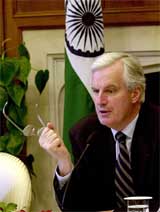 French Foreign Minister Michel Barnier talks to mediapersons at Hyderabad House in New Delhi on Wednesday. — PTI


Expect non-conventional threats, PM asks services
October 27, 2004

Myanmar not to allow ultras to use territory
October 26, 2004

Commanders to take up new doctrine
October 25, 2004

Veerappan practised Mao's guerilla tactics
October 24, 2004

Hospital, not doc, to be blamed in negligence case: SC
October 23, 2004

Probe ordered against handicraft commissioner
October 22, 2004

Kashmir issue must be solved through talks: China
October 21, 2004
Advani takes charge
October 20, 2004
BSP will be kingmaker next time, says Maya
October 19, 2004
Pawar magic worked, says Jayalalithaa
October 18, 2004