Eight plots auctioned for Rs 500 cr in Noida
Noida, October 31
Eight residential plots have been auctioned by the Noida authority for Rs 500 crore, touching a new high for prices of residential plots. The highest bid was for a plot in Sector-93-A which will give the authority over Rs 68 crore, said the Noida Authority Chairman, Mr Deo Dutt.
Debunking myths about pregnancy
New Delhi, October 31
Dr Anita Gupta, gynaecologist, Women and Child Clinic, G M Modi Hospital, claims that women are often misled into believing "myths" that are handed down from one generation to the other during pregnancy.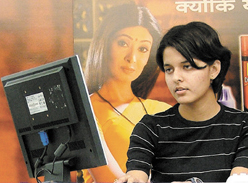 A young girl waits for visitors at MTNL Perfect Health Mela 2004 at Talkatora Garden in the Capital on Sunday. — Photo by Rajeev Tyagi

Fake visa racket busted
New Delhi, October 31
With the arrest of a person, the Delhi Police claim to have busted a gang which was active in the city for issuance of fake visas. The police have arrested one Kunal, a resident of Pitampura, in this connection.
Ban sought on aerated drinks in school canteens
New Delhi, October 31
Concerned over the increasing dependence of school-going children on junk food, a complaint has been lodged with the Public Grievances Cell to include aerated drinks in the list of junk food to be banned in school canteens.
Students clamour for revision of bus pass rate
Gurgaon, October 31
The student community here has urged the Haryana government to revise the rate of concessional bus passes offered by the Haryana Roadways.
MCD chief under fire on privatisation
New Delhi, October 31
The President of the Municipal Safai Kamgar Congress Delhi State, Mr Mulak Chand Bainiwal, has said that Municipal Commissioner, Mr. Rakesh Mehta, is gradually privatising the CSE department by appointing more people on daily wages.
Bulandshahr, Noida lose their heroes
Noida, October 31
Captain Arjun Sardana and Major-General D P Singh, who were killed in Army helicopter crash near India-China border on Friday along with Lt. Col. P.K.Pandey, belonged to Noida and Bulandshahr, respectively.
Institute in select group
New Delhi, October 31
The SP Jain Institute of Management & Research (SPJIMR) is the only Management Institute from Asia to be selected in addition to 11 management institutes from across the globe for a two-year action learning project titled 'Teaching Innovation Program'.
Move to cancel Punjabi teaching posts draws flak
New Delhi, October 31
Punjabi writers and scholars in Delhi have protested against the Delhi government's move to abolish around two dozen posts of Punjabi teaching in state secondary schools, saying it contradicts an earlier promise to promote the language.
Husband deserted by better half
Modi Nagar, October 31
A pregnant woman, a mother of six children already, has forsaken her husband and eloped with a nephew half her age. She is reportedly living with her nephew for the last two months.
Air show at Hindon station on Nov 6
Ghaziabad, October 31
The Hindon Indian Air Force station will be the venue of a prestigious air show on November 6 and 7. A French delegation is also coming to watch this show, it is learnt.
Missing youth's body found
Ghaziabad, October 31
The body of a youth reported missing from Kirana village under Hafizpur police station area has been recovered from the bank of the canal this morning.
Condition of three workers on hunger strike serious
Greater Noida, October 31
The condition of three workers of Punjab Fibres Co. who have been on hunger strike in front of Collectorate in Surajpur, has become serious.
Artscape
Art buffs warm up to galleries as winter sets in
New Delhi, October 31
What has weather got to do with the art scene? A lot, if one goes by the sudden spurt in activity in the Capital's art galleries.
Briefs...
DUSU strike plan
New Delhi, October 31
The Delhi University Students' Union has announced its decision to declare a strike on November 4 and 5 to oppose the "negative attitude of the University Officials".