PUNJAB
HARYANA
JAMMU & KASHMIR
HIMACHAL
REGIONAL BRIEFS
NATION
OPINIONS
MAILBAG
BUSINESS
SPORTS
WORLD
Thursday, November 4, 2004, Chandigarh, India
Updated at 3:00 am (IST)

Bush is US President again
Kerry concedes defeat
Democratic presidential challenger Sen. John Kerry conceded defeat in a telephone call to President George W. Bush at 11 a.m. (Eastern Standard Time) ending a long night of election drama. The Massachusetts Senator's decision to concede, some campaign insiders and analysts said, was an indication that he had given up on Ohio's 20 Electoral Votes going his way.
CAST YOUR VOTE
Should domestic airlines be allowed to fly to
foreign destinations?

FORUM
EDUCATION
JOBS & CAREERS
HEALTH & FITNESS
SCIENCE & TECHNOLOGY
SPORTS
WOMEN
TRIBUNE CLASSIFIEDS
BRIDES WANTED
GROOMS WANTED
OTHERS
HOW TO PLACE ADVTS
Bobby Jindal wins from Louisiana
Washington, November 3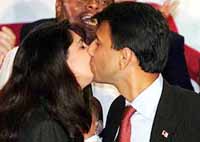 In the murkiness of an undecided election, the Indian American community had some cause for cheer as Republican candidate Bobby Jindal made history becoming only the second person of Indian origin to be elected to the US Congress.
Congressman Bobby Jindal kisses his wife Supriya after his historic victory speech in New Orleans on Tuesday. — PTI photo

Punjab page: Celebrations over victory of Bobby Jindal


THE TRIBUNE MAGAZINES
On Sundays

On Saturdays


13 cops, 35 farmers hurt as BKU stir turns violent
Ralle (Mansa), November 3
The rail roko agitation organised by BKU (Ekta), Ugrahhan group today, which turned out to be a flop show otherwise, took a violent turn at this village in Mansa district.
Amarinder meets Manmohan
Seeks Rs 5,100-crore relief for Punjab
New Delhi, November 3
Punjab Chief Minister Capt Amarinder Singh today met Prime Minister Manmohan Singh to seek relief of Rs 5,100 crore for damage suffered by the state due to drought and floods this year.
Pakistani gets death penalty for '97 Delhi blast
New Delhi, November 3
A Delhi court today sentenced a Pakistani national to death for causing an explosion in a private bus seven years ago, killing four persons and injuring 24 others.


3 schoolchildren run over by truck
Yamunanagar, November 3
To save 12 schoolchildren going on a rickshaw from being run over, the driver of a truck ended up killing three children on foot and injuring another on the Ambala Ponta Sahib national highway here today.

| | |
| --- | --- |
| | Neighbours try to console Ms Shreshtha (left) and Ms Suman (right), the mothers who lost their children in a road accident in Jagadhri on Wednesday. |
Sri Guru Granth Sahib - Quadricentenary Celebrations
Athens 2004
Illegal Cremations: NHRC List
G. S. Tohra (1924—2004)
Patiala Heritage Week
Turbans
Chandigarh is 50
EARLIER FEATURES
Free-for-all in Orissa Assembly, CM injured
November 3, 2004

Bush, Kerry target key states in final hours
November 2, 2004


No increase in petrol, diesel prices
November 1, 2004


Shinde is Andhra Governor
October 31, 2004


Deshmukh to be CM
October 30, 2004


Maratha lobby averse to Shinde as CM
October 29, 2004


Cong to head govt in Maharashtra
October 28, 2004


Musharraf's new Kashmir formula
October 27, 2004


NCP defers decision on Congress proposal
October 26, 2004


Omar, Farooq survive bomb attack
October 25, 2004