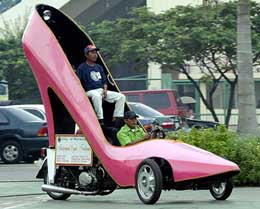 A Filipino makes a turn while testing a 1,000 cc Japanese motor cycle made into a giant ladies shoe at a busy street of Marikina city, east of Manila, on Thursday. The city government spent 91,000 pesos ($1,600) to build the galvanised iron shoe to promote Marikina's main shoe-making industry that has slackened due to cheap shoes imported from China. — Reuters
Bourses' corporatisation by March, says Sebi
New Delhi, November 11
Market regulator Sebi has said stock exchanges will be corporatised and demutualised by March 31, 2005 on the lines of an ordinance in this regard. "We met representatives of stock exchanges on November 9 regarding the demutualisation and corporatisation process.
Nepal airlines offers stake to Indian operators
Kathmandu, November 11
Private airline operators in India have a golden opportunity to expand their base with the Nepal Government deciding to divest its stake in the Royal Nepal Airlines and willing to give management control to the successful bidder.
Panel to make India gold-trading hub set up
New Delhi, November 11
Minister of Commerce and Industry Kamal Nath has constituted a Committee to examine the regulatory structure of the Indian gold industry with a view to making India a gold trading hub.
Industrial growth up at 7.9 pc
New Delhi, November 11
Led by strong recovery in the manufacturing sector, industry grew at 7.9 per cent in the first six months of the current fiscal compared to 6.2 per cent in the same period last year.
Netherlands body to assist SMEs
Ludhiana, November 11
The Programme Upsorting Management, a Netherlands-based association of senior experts assisted by the Netherlands government, plans to take up over 120 consultancy projects free of cost this year in the small and medium enterprises sector.
Graphics:

India's industrial growth

Rate of inflation



Video
India says NRI investment proposals to get proper follow up.
(28k, 56k)