PSEB staff oppose privatisation move
Nawanshahr, November 30
On a call given by the Punjab State Electricity Board Employees Joint Forum, the various unions of PSEB employees — Technical Services Union, Employees Federation, JEs Council, MSU, AITUC — accompanied by various other employees' unions organised a protest dharna in front of the office of the Deputy Commissioner here today to protest against the state government's move to privatise the board.
Members of the Punjab State Electricity Board Joint Forum stage a dharna in front of the Deputy Commissioner's office in Jalandhar on Tuesday against dismantling of the PSEB. — Tribune photo by Pawan Sharma
PSEB employees hold rally
Fatehgarh Sahib, November 30
Employees of the Punjab State Electricity Board Employees Joint Force today organised a rally in front of the Deputy Commissioner's office in protest against the alleged move of the government to privatise the board.
Ajeet Cour to boycott awards function
Chandigarh, November 30
The Punjab Languages Department has suffered another setback. Ajeet Cour, eminent Punjabi writer from Delhi, today announced to boycott the function to be organised to give Shiromani awards to eminent writers and others by the Languages Department at the concluding day of the World Punjabi Conference at Patiala on December 3.

She took to smack trade to sustain family
Jalandhar, November 30
A blind father and his inability to feed his seven children pushed, 19-year-old Geeta into smack trade.
1 dead, 2 hurt in Doraha blast
Ludhiana, November 30
One labourer was killed and two persons were seriously injured in a blast at Bedi Steels factory near Doraha town late this evening. Though the owners of Bedi Steels claim that the blast occurred due to a blockade in the gas pipe, the police suspect that a scrap bomb put in the furnace had exploded.


Former Punjab minister dead
Chandigarh, November 30
Mr Hans Raj Sharma, former Finance Minister of Punjab and former president of the Punjab Pradesh Congress Committee, died here tonight. He was 82. His cremation will take place at Sector 25 cremation ground at 4 pm tomorrow.
SAD (A) demands Bibi's removal
Sangrur, November 30
Activists of the Shiromani Akali Dal (Amritsar), led by district president of the party Jeet Singh Alloarkh, today blocked the Sangrur-Patran road for some time at Sulargharat village, about 20 km from here, as part of their programme to oppose the entry of Bibi Jagir Kaur, President of the SGPC, into the district as she was expected to attend a function in a private school at Chhahar village, near Sulargharat, today.
Baba in trouble as doctor's employee spills beans
Patiala, November 30
Two human eyes in form alin, post-mortem results of a mentally challenged person whose eyes were removed after her death, an employee of a well-known eye hospital who was "caught" with the eyes and the statements of employees working for the All-India Pingalwara are slowly tightening the noose around Baba Balbir Singh, who has seen a phenomenal rise during the past five years.
An inmate at the All-India Pingla Ashram in Patiala on Tuesday. — A Tribune photograph
Pension of freedom fighters, widows revised
Chandigarh, November 30
The upward revision of pension of freedom fighters and their widows by Rs 500 to Rs 2500 a month and granting of loans to persons with disability were among the major decisions taken by the Punjab Council of Ministers at its meeting held here today. The Chief Minister, Capt Amarinder Singh, presided.
So near yet so far for this PSEB ex-employee
Moga, November 30
Dil Bahadur, an ex-employee of the Punjab State Electricity Board (PSEB) who became disabled in an accident while on duty and was awaiting provident fund and other benefits, got the same within a couple of days after The Tribune carried his story (November 27 issue).
Mediapersons resent BSF attitude
Wagah , November 30
Mediapersons faced uncooperative treatment from BSF personnel at the Wagah joint checkpost today during the arrival of delegates from Pakistan to participate in the three-day World Punjabi Conference to be held at Patiala from December 1.
Boys who killed friend shifted to Ludhiana
Patiala, November 30
The Patiala Police today shifted all three boys accused of murdering a five year old boy for Rs 15 in his pocket to the Bal Niketan in Ludhiana. All three boys charged with murder, will also be presented before the Juvenile Court in Ludhiana.
Chahal advised rest, may not appear in court
Chandigarh, November 30
Mr B.I.S. Chahal, Media Adviser to Punjab Chief Minister Amarinder Singh, has a date with the Punjab and Haryana High Court tomorrow. But there is very little chance of Mr Chahal keeping the date.
Team to visit jaundice-hit village
Barnala, November 30
Rapid Response Team will rush to jaundice-scared Chananwal village, 10 km from here tomorrow, for a thorough survey. It will take water as well as blood samples of those suffering from jaundice to determine whether they were suffering from water- borne disease orchronic following orders from the Civil Surgeon, Sangrur.

LIC staff oppose FDI
Kapurthala, November 30
Protesting against the proposed increase in foreign direct investment (FDI) in the insurance sector, a deputation of LIC employees under the banner of the Northern Zone Insurance Employees Association met Mr Rana Gurjit Singh, MP, and submitted a memorandum to him.

Sentence of kids' killers changed to life term
Chandigarh, November 30
The Punjab and Haryana High Court today converted the death sentence awarded to two persons, who had killed two minor children of Jalandhar, into life imprisonment.
Probe DTO's record, says tribunal
SSP told to register case
Bathinda, November 30
In a significant development, which could expose alleged malfunctioning of the local District Transport Office, Mr D.S. Malwai, Additional Sessions Judge-cum-Motor Accidents Claims Tribunal, today told the district police chief to register a criminal case against that office and investigate its record.


Farmers demand higher prices for land
Kharar, November 30
Farmers of villages falling under Kharar subdivision have demanded higher land acquisition prices as compared to farmers falling under Mohali subdivision.
Agriculture Director's selection hailed
Chandigarh, November 30
The Punjab Agriculture Service Engineers Welfare Association has welcomed that for first time a senior technocrat, Mr Balwinder Singh Sidhu as Director of Agriculture, Punjab.
BKU (Ekta) activists block traffic
Fatehgarh Sahib, November 30
Activists of the BKU (Ekta), led by its state president, Mr Pishora Singh, today blocked traffic at the Gurdwara Jyoti Swarup chowk here for three hours.


Attack on doctor: 4 cops held, 7 undertrials booked
Hoshiarpur, November 30
Dr Bhupinder Singh was injured at the Civil Hospital when seven undertrials who had come for first-aid after an accident, assaulted him and hit a medicine bottle on his head in the presence of police men accompanying them in the OPD room today.

Woman with stag horns held at Attari
Chandigarh, November 30
Jaitoon Begum, a Muzaffarnagar district- based woman, has been arrested at the Attari Railway station, in connection with the alleged smuggling of dear antlers to Pakistan. Jaitoon Begum was on her way to Lahore from Delhi on Samjhauta Express, it is learnt.

Two FCI officials held for graft
Patiala, November 30
The Patiala Vigilance Bureau today arrested Food Corporation of India Assistant Manager Nirmal Singh and Technical Assistant Shaukat Ali on charges of accepting a bribe of Rs 57,000 from a mill owner of Malerkotla.

Couple booked on charges of cheating
Kharar, November 30
A Delhi-based couple has been booked by the police on charges of cheating, criminal breach of trust, criminal intimidation and conspiracy.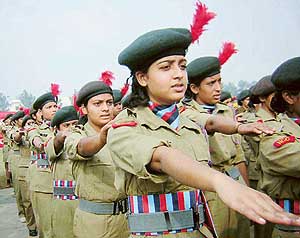 NCC girl cadets on the occasion of NCC Day celebrations at Khalsa College in Patiala on Tuesday. — Photo by Rajesh Sachar
VC to be by his son's side during conference
Patiala, November 30
Punjabi University Vice- Chancellor today took two days leave from for December 2 to be by the side of his son who is set to undergo an operation for multiple fractures on December 2.
Boycott awards from VC, say Pbi varsity students body
Patiala, November 30
The Punjabi University Students Confederation comprising various student bodies today urged the Shiromani Awardees not to accept the honour from the Vice-Chancellor, Punjabi University , Mr Swarn Singh Boparai.

College teachers block traffic, hold rally
Malout, November 30
Members of the Punjab and Chandigarh College Teachers Union (PCCTU) today blocked traffic for about half an hour on national highway No. 10 to protest against the non-acceptance of their demands by the Punjab Government.