December 1 is World AIDS Days
Rodrigues for systematic approach to tackle AIDS
Ignores prepared speech, speaks extempore
Chandigarh, December 1
Underlining the need for a systematic interactive process and practical approach for tackling AIDS, the Punjab Governor and UT Administrator Gen S.F. Rodrigues (retd), said that the menace was not confined to a particular section but was a matter of societal concern and needed a solution at the societal level.

Punjab Governor and UT Administrator S.F. Rodrigues at an exhibition on the occasion of World AIDS Day at Sector 10, Chandigarh, on Wednesday.




Ministry sanctions free AIDS drugs for only 200 city patients
Chandigarh, December 1
Even as the much-awaited free anti-retroviral treatment (ART) for HIV/AIDS patients is likely to start this month at the PGI, a large chunk of HIV positive patients availing treatment in the city would still be deprived of the free drugs.
Special camps on AIDS awareness to be organised

Awareness programme on AIDS held
Sub-Registrar divested of work
Golden Forests Group case
Panchkula, December 1
The Deputy Commissioner, Ms Neelam P. Kasni, today withdrew all work from the Sub- Registrar in the Tehsil office, Mr D.N. Malik, for allegedly registering the sale deed of a property belonging to the Golden Forest Group of Companies.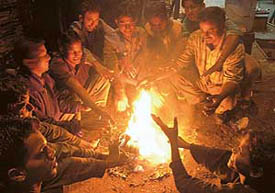 Mechanics of Sector-38 West motor market sit around a bonfire to ward off winter chill in Chandigarh on Wednesday.
— A Tribune photograph
Meeting discusses ways to deal with stray cattle
Chandigarh, December 1
To address the problem of stray-cattle, the local bodies of the city and adjoining towns, today, decided to earmark areas for cattle-pounds in their respective jurisdictions.
LIC dev officers resent decision on conveyance allowance
Chandigarh, December 1
The development officers of the LIC under the banner of National Federation of Insurance Field Workers Of India is surrendering their vehicles purchased on loan from LIC of India for performance of official duties in protest against the unilateral withdrawal of the scheme of 'Additional Conveyance Allowance' on 1st of December'2004.
Temperatures to drop sharply
Rains not to last beyond 48 hrs
Chandigarh, December 1
Changes in weather are only beginning to surface. Over the coming week, many alterations are expected, including a major drop in the day and night temperature. Rains that lashed the region yesterday will also depart within the next 24 or at the most 48 hours.
Traffic held up for one hour
Mohali, December 1
Traffic on the Phase II and Phase IV dividing road was held up for over an hour following an accident that involved a bus and three cars. No one was injured in the accident.


Students to the rescue of a hapless father
Chandigarh, December 1
Resident students of the University Institute of Engineering and Technology (UIET), today, donated Rs 6,000 to the father of a kidney patient at Panjab University, here today.



Students donate money to the father of a cancer patient at Panjab University, Hostel No 3 in Chandigarh on Wednesday. — A Tribune photograph
UT powermen's dharna today
Chandigarh, December 1
UT Powermen have decided to stage day-long dharna before the office of Electricity Department Operation Division 3 in Sector 19-B in support of their long-pending demands against the Electricity Act 203. They have also urged the Indian government to scrap the Electricity Bill 2003.
MLA suspended
Chandigarh, December 1
The Congress MLA from Beri, Dr Raghbir Singh Kadiyan, was suspended from the Assembly for the rest of the session here today.