Widow waits for state relief
Chandigarh, December 13
Three years after a soldier made his final exit from the world in a mine blast during Operation Parakram in Rajasthan, his wife has been struggling for her rights. Though she was granted pensionary and other benefits by the Central Government, the Haryana Government failed to keep its promise.
Sahgal admits leaking information to Tehelka men
Chandigarh, December 13
Colonel Anil Sahgal, who is being tried for professional impropriety in the Tehelka case, today stated before the general court martial that he had divulged certain information about the Army's procurement process and equipment requirements to tehelka.com operatives who were posing as arms dealers.
Old man alleges cheating; police yet to arrest anyone
Mohali, December 13
The police here is yet to arrest any one of the six persons booked for allegedly cheating an 86 year old resident of Chilla Manouli village Pritam Singh. Main accused in the case, Karamjit Singh, also a resident of the village, reportedly sold over five acres of land belonging to Pritam Singh using his power of attorney. According to Pritam Singh who can barely see and hear due to old age, Karamjit Singh allegedly took his thumb impressions on a large number of documents on the pretext of filing some papers in PUDA.

Pritam Singh along with his relative
HUDA JEs resent "outsiders' absorption"
Panchkula, December 13
The HUDA Junior Engineers Welfare Association has decried the alleged illegal absorption of Sub Divisional Engineers (SDE) from other state government departments in Haryana Urban Development Authority (HUDA) .


Fauji Beat
Fake terrorists' surrender raises controversy
T HE surrender of 47 alleged fake militants at the Headquarters 16 Corps in J&K last month, has kicked up a controversy against the Army. It is alleged that these boys posed as terrorists to avail of the cash grant of Rs. 1.50 lakh, a monthly stipend of Rs 2,000 and government guarantee for bank loan.

The late Lieut-Gen P.S. Bhagat, Victoria Cross.

Women power to take on 'insensitive' state
Chandigarh, December 13
Women Power Connect (WPC) is not just another women's organisation which has been floated to merely deliberate on women's issues.

From left: Dr Pam Rajput, Director Maya foundation, Feroza Mehrotra, Deputy Regional Programme Director Uniform South Asia, Dr Ranjana Kumari, Director Centre for Social Research, Delhi, and Benita Sharma at a press conference, in Chandigarh on Monday. — A Tribune photograph
Workshop on police ends
Mohali, December 13
A two-day workshop organised by the local Institute for Development and Communication with the help of the IPS Association, Punjab, and Friedrich Ebert Stiftung, New Delhi, ended today with discussions on the relevance of civilian oversights for ensuring police accountability and police accountability through internal control mechanisms.
Siddiqui for revising role of police
Mohali, December 13
The society must decide the role of the police. At the pace with which the society was changing, the definition and role of the police should be revised at least once a year. This was stated by Dr A.A. Siddiqui, DGP, Punjab, as part of his presidential remarks at the concluding session of the two-day workshop on Police and Community Interface organised by the Institute for Development and Communication, Chandigarh here today.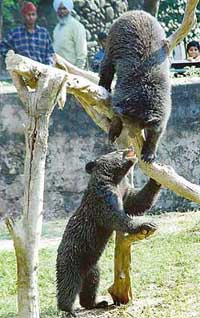 Basking in the sun

: Two Himalayan black bear cubs in playful mood at Chhat Bir Zoological Park, near Chandigarh, on Monday. — Tribune photo by Pankaj Sharma
Awareness camp for poor women
Chandigarh, December 13
A 10-day-long awareness generation camp for women was organised by Yuvsatta in association with the Chandigarh Social Welfare Board in the slum area of colony No. 5.
Passport staff flay privatisation
Chandigarh, December 13
Members of the All-India Passport Employees Association today opposed the decision of the Regional Passport Office (RPO) authorities to outsource certain jobs in the preparation of passports.
Power sub-division for Mullanpur
Mohali, December 13
Cabinet Minister Jagmohan Singh Kang today announced the establishment of new electricity distribution sub-division at Mullanpur Garibdas village near here. According to a press note, Mr Kang disclosed that with this distribution sub-division, more than 12,000 consumers from 35 villages of the area would be benefited.
MP criticised for staging dharna
Chandigarh, December 13
Mr Rajesh Gupta, a councillor of the Chandigarh Municipal Council, has criticised Mr Pawan Kumar Bansal, MP from Chandigarh, for staging a dharna against the Administration for setting up a school at a site earmarked for the park in Sector 21-A. Mr Bansal has staged a dharna at the site on Sunday.
Readers Write
Revive camping site
A large number of tourists from abroad come daily to Chandigarh. Several tourists come in their own vehicles and want to stay at a camping site in the city. The Administration had earmarked a camping site near the Sukhna Lake. CITCO put up tents there for tourists. Later this place was taken over by the Central Reserve Police Force.