From Schools and Colleges


President award for schoolteacher
Our Correspondent

Ludhiana, December 13
Ms Umesh Kumari, a teacher of Jain Girls Senior Secondary School, has been conferred with a silver medal by the President of India for rendering outstanding services during the 2001 census.

This information was given by the school Principal, Ms Veena Sobti, through a press note. Ms Umesh Kumari expressed satisfaction that her efforts were recognised.

Students felicitated:

A function was organised on Monday at Spring Dale School to felicitate meritorious students. A cultural programme was also presented on the occasion. The day coincided with the birthday of Ms Avinash Kaur Walia, director and founder Principal of the school.

Students congratulated their director and founder Principal on her birthday by offering flowers and cards.

The function started by cutting of cake by the Principal. A welcome song, giddha, bhangra and solo dance items were presented by students on the occasion.

More than 120 students were honoured with trophies for their outstanding performance during the annual examinations held in March.

Students who had done well in other fields were also honoured on the occasion.

Ms Avinash Kaur Walia briefly spoke about the achievements of the school besides listing future plans.

The function ended with distribution of cake and sweets.

Golden jubilee of school:

A cultural function was organised at New Central Model High School to mark its golden jubilee. Director of the school Mr Inderjeet Malhotra, and the Principal, Mr Charanjit Malhotra, read the annual report.

Dr Rajni Bala spoke about achievements of the school. Mr Malkiat Singh Dakha, MLA, was the chief guest.

The Deputy Mayor, Mr Prem Mittal, was also present on the occasion.

Ajay Kumar, Simran, Gujneet Kaur, Manish Dubey, Neha, Sahil Chaudhry, Dolly Sidhu, Rita sidhu, Kamalpreet Kar, Jagjeet Singh, Rajan Bisht, Gurpreet Singh, Kamalpreet Kaur, Harmeet Singh, Aman Birt, Amanpreet Singh, Inderjeet Kaur, Manish Tiwari, Parminder Singh, Gurdeep Singh, Sukhpreet Kar, Harpreet Kar, Bakshish Singh, Anurag Arora, Kamandep Singh, Taranjit Singh, Sukhjinder Singh, Jaskamal Singh, Balwinder Singh, Paramdep Kaur, Devinder Singh and many other students were honoured on the occasion.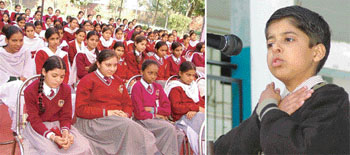 A student speaks at a declamation contest held at Everest Public School in Ludhiana on Monday. — Photo by Inderjit Verma

Founder's day:

A function was held at Everest Public Senior Secondary School, Moti Nagar, in memory of late Dina Nath Sharma, founder of the school, on Monday. Mr Gurpreet Singh, SP (D), Ludhiana, was the chief guest. He inaugurated the function. He paid tributes to the founder of the school.

Mr S.S. Dhaudhar recalled the untiring struggle and dedication of Dina Nath Sharma that enabled the school to make rapid strides towards success.

A declamation contest and a cultural programme were organised on the occasion. The topics for the declamation contest were 'Women and employment', 'Labour and destiny', 'Enhancement of land education', 'Divorce', 'Self-respect', 'Female foeticide' etc.

Mr Prem Mittal, Senior Deputy Mayor, MC, Ludhiana, and Prof Harlal Singh, former Director of the PSEB, gave away prizes to the winners.

The results: Punjabi — Bhushan of SN Public School 1, Gaganpreet of Everest Public School Jaspalon 2 and Harsimran of DAV Public School 3.

Hindi: Nisha of BCM School, Focal Point, 1, Swati of BCM School, Focal Point, 2, and Tushar of DAV Public School 3.

Consolation prizes: Aman Goyal of BCM School, Focal Point, Surinder Kaur of Navyug High School, Ludhiana, Shama Sharma of Rajindera Model School, Surinder Kaur of Harsh Vidya Mandir, Narinder Kaur of Dyal Public School and Priyanka of SN Public School.

The running trophy was awarded to BCM Senior Secondary School, Focal Point, Ludhiana. Ms Asha Sharma, Coordinator, IGNOU, Special Study Centre, thanked the guests.

The function concluded with a speech from Mr Rajinder Sharma, Principal of the school.