PUNJAB
HARYANA
JAMMU & KASHMIR
HIMACHAL
REGIONAL BRIEFS
NATION
OPINIONS
MAILBAG
BUSINESS
SPORTS
WORLD
Saturday, December 25, 2004, Chandigarh, India
Updated at 3:00 am (IST)
Over 30 FIRs for code violation in Bihar
Code not violated, says Laloo
New Delhi, December 24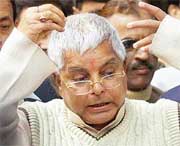 Even as RJD chief Laloo Prasad Yadav today refuted the charge that he had bribed voters in Bihar ahead of the February polls, the probe team submitted its "factual" report on the alleged misuse of government machinery in the state.

Union Railway Minister and RJD chief Laloo Prasad Yadav interacts with mediapersons after meeting the Chief Election Commissioner in New Delhi on Friday. — PTI photo

CAST YOUR VOTE
Is India ready for a second Green Revolution?

FORUM
EDUCATION
JOBS & CAREERS
HEALTH & FITNESS
SCIENCE & TECHNOLOGY
SPORTS
SOCIETY
TRIBUNE CLASSIFIEDS
BRIDES WANTED
GROOMS WANTED
OTHERS
HOW TO PLACE ADVTS
Uma back in BJP fold
New Delhi, December 24


Fortythree days after the disciplinary action against her for challenging the party leadership and launching an open attack against some of the second rung leaders, BJP president L.K. Advani today restored the primary membership of former party General Secretary and Madhya Pradesh Chief Minister Uma Bharti.


In video (28k, 56k)
PM, Sonia to attend Rao's funeral
New Delhi, December 24
Prime Minister Manmohan Singh and UPA chairperson Sonia Gandhi will be among those who will attend the last rites of former Prime Minister P.V. Narasimha Rao in Hyderabad tomorrow, where he will be accorded a state funeral.


In video: Leaders pay tributes to Rao. (28k, 56k)
In Sports Tribune today
THE TRIBUNE MAGAZINES
On Sundays

On Saturdays

Rao's body arrives in Hyderabad

When Rao lost job for meeting Press
Middle: PV's predilections


Defence personnel carry the mortal remains of former Prime Minister P.V. Narasimha Rao at Palam Air Force Station in New Delhi on Friday before the body was flown to Hyderabad for cremation.
— PTI photo
NGO opposes Rao's cremation near Hussain Sagar Lake
Hyderabad, December 24
Even as preparations are underway for the funeral of former Prime Minister P.V. Narasimha Rao on the shores of Hussain Sagar Lake, an NGO today opposed it on environmental grounds.
Baba Thakur Singh of Damdami Taksal dead
Amritsar, December 24
Baba Thakur Singh, who had taken over as the acting head of Damdami Taksal in June 1984 immediately after the infamous Operation Bluestar, died here today after a brief illness at a local private hospital. He was 89.
Detail on Punjab page
Death penalty for Pervez assailant
Islamabad, December 24
A military court had handed down death sentence to a soldier and 10-year imprisonment to another for masterminding an assassination bid on Pakistan President Pervez Musharraf last year, an army spokesman said today.


Pay more taxes and have less holidays
Chandigarh, December 24
Pay more taxes and have less holidays is the Christmas and New Year gift from the Punjab Council of Ministers to the people of the state. Offsetting reduction in power tariff by doubling the electricity duty and increasing the stamp duty by 50 per cent, the Punjab Government has given people of the state the first dose of indirect double taxation.

PMO's letter to CBI leads to furore in Parliament
December 24, 2004

Zaheera was paid Rs 18 lakh by BJP MLA: Tehelka
December 23, 2004

PM rules out redrawing of boundaries
December 22, 2004

FIR against Laloo for code violation
December 21, 2004

PM, Patel to stay away from planes' purchase
December 20, 2004

EC objects to creation of Haryana dist
December 19, 2004

Haryana goes to polls on Feb 3
December 18, 2004

Angry Speaker offers to quit
December 17, 2004

Laloo's absence sparks din
December 16, 2004

37 die as trains collide near Mukerian
December 15, 2004