2004: IN RETROSPECT

The year widened city's cultural horizon
Asha Ahuja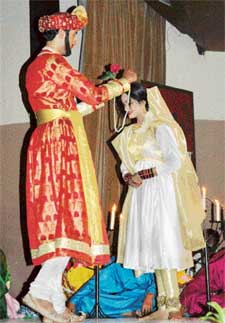 A scene from the play "Patey Khan," staged by the LSS
Ludhiana, December 27
The city witnessed a host of cultural activities in 2004. The cultural horizon of the city was widened and brightened by a number of organisations promoting art and culture. The Ludhiana Sanskritik Samagam (LSS), a voluntary non-governmental cultural organisation, presented a large number of quality plays and musical extravaganzas during 2004.
In January, city residents had an opportunity to witness the Indo-Pak Sufiana kalam organised by the LSS. Hans Raj Hans from India and the Ajoka troupe from Pakistan participated in it. Lillette Dubey , Joy Sengupta and Suchitra Pilai presented a beautiful English play titled "Womanly Voices."
A Hindi play, "Begum Jani," by the mother-daughter duo of Nadira and Juhi Babbar was presented by the LSS. Both consummate actresses breathed life into the play. The next presentation of the LSS was Paigam-e-Mohabbat, a two- night cultural extravaganza. A large number of performing artistes from Pakistan appreciated in it. On the first night, soulful music by Mohammad Iqbal Bahoo and Saiyan Zahoor was appreciated. Prof Sarvat Ali of Lahore Museum apprised the audience of the old music tradition still being carried on in Pakistan. The next day, a unique play "Patey Khan", by Usmaan Peerzada and Imraan Peerzada was staged.
"Zen Khatha", another play by Lillette Dubey depicted the spread of Buddhism and emergence of martial arts in India. The LSS presented Ghalibnama, a programme wherein Salim Arif read letters of Ghalib and Jaswinder Singh sang eight ghazals of Ghalib .
Media Arts presented three plays in the city. It staged "Macbeth" of Shakespeare in Punjabi. A lot of effort had gone into the translation. The other plays staged were "Nadian nu Taap" Chadiya and "Waiting for Godot'. This too, was translated into Punjabi. Media Arts also organised a programme, Aman Kafala, by Shabnam Hasami, wherein students from various states, especially Gujarat narrated their experiences of the Godhra riots.
Adeeb International honoured Mr Kewal Dheer on his 60th birthday for publishing his 60th book. A mushaira followed in which renowned Urdu poets participated. The Prof Mohan Singh International Foundation organised a programme in memory of Prof Mohan Singh. Many dying traditional arts were showcased. Eight personalities from different walks of life were honoured on the occasion.
Punjabi literature got an impetus as scores of books of budding writers were released. A large number of symposia and face to face with writers were organised at Punjabi Bhavan. Five writers from Ludhiana were awarded by the Language Department, Punjab, with Shiromani Awards .
SPIC-MACAY organised a dance performance by Pratibha Prahad and brought in classical singers Rajan and Sajan Mishra. Mangniyar Tribe entertained the audience with folk songs.
SPIC-MACAY and the LSS brought in Kiran Segal, Rafaquat Ali Khan and Vanashree, who gave performances in a school during a three day winter convention organised by SPIC MACAY. Four short Punjabi plays were staged. On the last day Pt Vishwa Mohan Bhatt gave a performance on the veena, while Ronu Majumdar delighted the students with the flute.
Zee TV had sent Anu Kapoor and Pallavi Joshi to conduct the Antakshari programme in the city, which a large number of city residents participated.
On the whole, those with a love for culture had a satisfactory year.