PUNJAB
HARYANA
JAMMU & KASHMIR
HIMACHAL
REGIONAL BRIEFS
NATION
OPINIONS
MAILBAG
BUSINESS
SPORTS
WORLD
N A T I O N

EC announces constituencies in Bihar, Jharkhand
New Delhi, December 27
The Election Commission today announced the list of constituencies, which would go to polls in three phases in Bihar and Jharkhand in the February Assembly poll.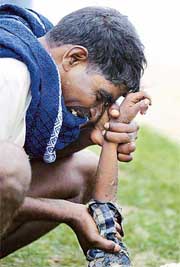 A man cries as he holds the hand of his eight-year-old son who was killed when a tsunami hit in Cuddalore, 180 km south of Chennai, on Monday.
— Reuters
Vivekananda Memorial not affected by tidal waves
Kanyakumari, December 27
The popular tourist spots of Gandhi Mandapam, Vivekananda Rock Memorial and the Thiruvalluvar Statue here are intact despite the coast being lashed by high tidal waves, triggered by the massive earthquake in the Indian Ocean, yesterday.




Omar Abdullah safe in Thailand

N-scientist among tsunami victims

Tsunami brings along snakes

Kanchi junior Seer quizzed
December 27, 2004
138 Tripura militants lay down arms
December 26, 2004
BJP to launch nationwide stir against UPA govt
December 25, 2004
Development goals on poverty will be achieved: PM
December 24, 2004
Appu's police custody extended for 6 days
December 23, 2004
Chautala dismisses anti-incumbency factor
December 22, 2004
3-day police custody for Appu
December 21, 2004
Notice to Haryana on vacant SC posts
December 20, 2004
Bazee.com chief's bail plea rejected
December 19, 2004
Venkatesh dies with wish unfulfilled
December 18, 2004