M A I N N E W S
Tsunami part of ICSE syllabus
Sarbjit Dhaliwal
Tribune News Service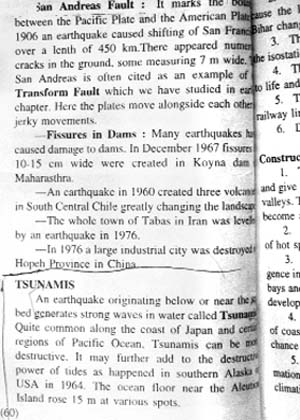 A photo copy of Class IX's (ICSE) geography book's chapter on tsunami.
Chandigarh, January 4
The Central Board of Secondary Education is, perhaps, not aware that tsunami is already a part of the syllabus in certain schools in the country. In ICSE schools, it is a part of the chapter on earthquakes and volcanoes in the geography book of the 9th standard.
In fact the chapter on earthquakes and volcanoes is quite elaborate in the course. It deals with all sort of waves generated by earthquakes, including tsunamis, which has been explained as oceanic waves. Destructive effects of various sorts of earthquakes have also been discussed in detail in the chapter.
Though it has been stated by certain sections of the media that this word has for first time entered the vocabulary of Indian people, it is far from true. Students have already been reading about it though in a limited number of schools. However, it is true that this word is new for the vast section of the people. It is part of almost all dictionaries of English.
There are certain schools such as St Stephen's School in Chandigarh and Yadavindra Public School, Mohali, which teach the syllabus prescribed by the Council of Indian School Certificate Examinations( ICSE). Even in the chapter on earthquakes, the history of major earthquakes has been given. It mentions an earthquake in Kolkota which killed over 3,00,000 lakh people in 1737.
Interestingly, Mr G. Balasubramanian, Director, Academics of the Central Board of Secondary Education (CBSE), had reportedly stated in Delhi yesterday that tips on dealing with the tsunami would be made part of the syllabus of the disaster management course at the Class X level to sensitise students in this connection. His idea is to give elementary knowledge about this to students.
But tsunami is not a problem of areas or states located far away from sea coastline. Even in coastal areas only those towns and cities are vulnerable to tsunami waves which are located just close to the sea-shores such as Chennai, Mumbai, and Port Blair etc. "But it would not be a bad idea if students are given just brief information in this regard in books to students in all states", says educationists.
In the ICSE prescribed syllabus, a brief description regarding tsunami says: "it is an earthquake originating below or near the sea bed. It generates strong waves in water called tsunami. Quite common along the coast of Japan and certain regions of pacific ocean. Tsunami can be more destructive. It may further add to the destructive power of tides as happened in southern Alaska in USA in 1964. The ocean floor near the Aleutian Islands rose 15 mts at various points".
Tsunami, which killed thousands of people in Indonesia, Sri Lanka, Thailand and India, has been in the headlines in the print and electronic media for the past one week. It has become the most debated topic in the country. While on the one hand, organisations such as the CBSE have mooted the proposal to make it a part of syllabus in schools, the Prime Minister, Dr Manmohan Singh, and the Science and Technology Minister, Mr Kapil Sibal, say that the India would take necessary steps to set up the system to warn against tsunamis and other oceanic disturbances.