Charting aftermath of a megaquake
INS Darshak, off Port Blair, January 4
As the continental plates continue to grind and shift against each other and fresh tremors send people scampering out of buildings (there was a particularly long drawn- out one today in the afternoon) in the Andaman and Nicobar islands, naval hydrographers are getting ready to chart the changes in depth profiles, currents, sea bed topography and the coastline itself.


In video: Hundreds displaced in Kerala return home. (28k, 56k)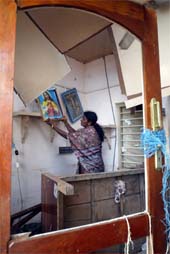 Where tsunami spared a church
Velankenni (Tamil Nadu), January 4
A blue wall hanging that adorned the home of Kasiamma on the beach here lies on what is now a heap of rubble. It says," What must I do to be saved? Believe on the Lord Jesus Christ, and thou shall be saved, Acts 16:30, 31." As providence would have it the 65-year-old woman, her two sons and a mentally challenged daughter survived when the killer tsunami struck on Sunday and the sea devoured 2000 persons here, including 500 Christian pilgrims who were taking a holy dip at this coastal town in Nagapattinam district, 260 kms away from Chennai.
An Indian woman adjusts a picture in her house which was damaged by the tsunami in Kanniyakumari, on Tuesday. — Reuters photo

Fuel supplies to Andaman and Nicobar restored
New Delhi, January 4
The government yesterday claimed that the supply of petroleum products to the tsunami-hit Andaman and Nicobar islands had been restored to normal and public sector oil companies had stocked 15 to 30 days supply of petrol, diesel, kerosene, ATF and LPG.


In video: Schoolchildren find a novel way to raise relief fund. (28k, 56k)



In video: Hundreds displaced in Kerala return home. (28k, 56k)

Sonia helps bridge communication gap
New Delhi, January 4
Amateur radio operators would not have played a stellar role of bridging the communication gap by relaying messages between Port Blair and New Delhi in the immediate aftermath of the tsunami disaster had it not been for Congress President Sonia Gandhi's personal intervention and interest in amateur radio.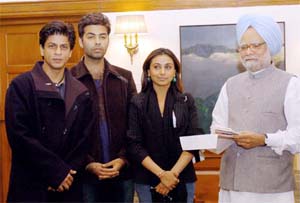 Prime Minister Manmohan Singh receives a Rs 85 lakh cheque towards the Chief Minister's Relief Fund donated by Bollywood stars Shah Rukh Khan, Rani Mukherjee, Preity Zinta (not in picture) and director Karan Johar, in New Delhi on Tuesday. — PTI
Suffering of Punjabi women touches NCW
New Delhi, January 4
A report released by the National Commission for Women (NCW) claims that the NRI marriages, dowry and the absence of family courts are persisting problems in Punjab. "There are no dowry prohibition officers, family courts and a special cell in the Ministry of External Affairs for NRI marriages, despite suggestions and the need for the same," Chairperson of the NCW Poornima Advani said while releasing the report on the situation of women in Punjab.
Paswan closes door on tie-up with JD (U)
New Delhi, January 4
Lok Janshakti Party (LJP) President Ram Vilas Paswan yesterday put an end to speculation over alliance talks between his party and the JD(United) for the forthcoming Assembly poll in Bihar, saying that such a scenario could emerge only when the JD (U) severed its ties with the BJP.
Punjab liquor vendor gets more time
New Delhi, January 4
A liquor vendor from Punjab, on whose petition entire auctions in three districts of the state were quashed by the Punjab and Haryana High Court last year, has sought two weeks' time from the Supreme Court for filing his reply to a special leave petition (SLP) by the state seeking a recovery of Rs 2.94 crore from him.
Pak for meeting on science with India
Ahmedabad, January 4
Pakistan is interested in holding a high-level scientific meeting on science with India on biotechnology and agriculture in Lahore in April to evolve solutions and strategies to common problems.
Woo NRI Sikhs, Centre asks Amarinder
New Delhi, January 4
The government has asked the Punjab Chief Minister, Capt Amarinder Singh, to take special interest to woo NRI Sikhs to participate in the Pravasi Bharatiya Divas, to be organised at Mumbai from January 7.
A village of unwed tribal mothers
Tirunelli (Kerala), January 4
A remote village in Kerala houses hundreds of unwed tribal women. It speaks aloud of the injustice meted out to women, even in the "age of liberalisation". Tirunelli village in Wayanad district portrays a grim picture as several tribal women, though not tied in nuptial knots, carry along multiple number of children.
MLA takes exception to CM's royal style
Jaipur, January 4
Rajasthan Chief Minister Vasundhara Raje has been inviting frequent criticism for squandering away public funds on maintaining her royal lifestyle and feudal functioning in the CM Secretariat and at her official residence.
Maoists join hands with KLO, ULFA in North-East
Kolkata, January 4
Maoists guerrillas of Nepal are trying to re-group with ULFA, KLO and other terrorist groups in the North-East to disturb peace in region, according to Lt-Gen Arvind Sharma, GOC-in-C, Eastern Command.
Water seepage adds to farmers' woes
Jaipur, January 4
While inadequate supply of waters from Punjab rivers is already a big problem for farmers in Sri Ganganagar and the adjoining areas, the seepage of water measuring around 400 cusecs at the Harike barrage due to the deplorable condition of its gates has added to their woes, say irrigation specialists.
Priyanka enraged by articles on son, moves PCI
New Delhi, January 4
Priyanka Vadra, daughter of Congress President Sonia Gandhi, has complained to the Press Council of India (PCI) against publication of "unwarranted" articles and photographs of her minor son in various national dailies.



Video
K. C. Bokadia repeats history!
(28k, 56k)