Bhai Gurdas inscribed the first copy of the Guru Granth Sahib, but he is himself not remembered now.
Bhai Gurdas, who inscribed the first copy of Guru Granth Sahib under the supervision of his nephew, Guru Arjun Dev, is considered as a towering Hindi poet of the medieval period. However, the Sikh world, including Akal Takht and SGPC, has failed to acknowledge the contribution of Bhai Gurdas.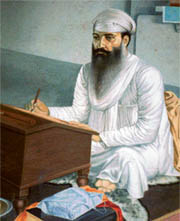 A portrait of Bhai Gurdas.