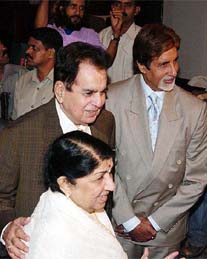 Legendary singer Lata Mangeshkar, veteran actor Dilip Kumar and Amitabh Bachchan at the golden jubilee celebrations of Filmfare Awards in Mumbai on Thursday.
— PTI

BSF backs Tripura CM on border fencing
Agartala, January 27
Tripura Chief Minister Manik Sarker found a friend in the form of the Director-General, BSF, Mr R.S.Mooshahary, who supported the issue of complete border fencing with Bangladesh to check infiltration problem and ISI activities in North-eastern and Eastern parts of the country.
Shia Board can be liquidated: Athar
Lucknow, January 27
If the All-India Muslim Personal Law Board increases Shia representation and assures to take up their main grievances, the newly formed Shia Board can be liquidated with the consent of the community, the president of the All-India Shia Personal Law Board, Maulana Mirza Mohammad Athar, said yesterday.

List of Army Republic Day awardees


List of IAF awardees


List of Naval awardees
Indian diplomacy on test
New Delhi, January 27
For nearly two years now, big powers like China and the USA are keen on getting a suitable role in South Asian Association for Regional Cooperation and indications here are that the issue may not be kept under the carpet for long.
STF to tackle Naxal problem
Bangalore, January 27
The Special Task Force will be used to tackle Naxal activity which has recently come to the fore in the western districts of Karnataka, Chief Minister Dharam Singh told the Legislative Assembly today.
Illegal migrants asked to leave Tripura by January 31
Agartala, January 27
The self-styled Royal Supreme Council of Tripura has asked all illegal settlers in the state, including Chief Minister Manik Sarker, to leave Tripura by January 31 this year.
Farooq to campaign for INLD
New Delhi, January 27
Former Jammu and Kashmir Chief Minister Farooq Abdullah would campaign for the ruling INLD in Haryana in the forthcoming Assembly elections.
Haryana Cong rebels face 6-year expulsion
New Delhi, January 27
Coming down strongly on rebels in the party, the Congress today announced a six-year expulsion of all those contesting against official nominees in the February 3 Assembly poll in Haryana.
Poornima Advani ignored us: NCW members
New Delhi, January 27
The outburst of a National Commission for Women (NCW) member on Monday, preceding the release of the commission's annual report by outgoing Chairperson Poornima Advani, is only but a tip of tension brewing between NCW members and its Chairperson for sometime now.
Cop murdered on way to receive medal
Lucknow, January 27
A Police officer on his way to Agra to receive the President's Police Medal was killed by unidentified assailants in Aligarh district of Uttar Pradesh.
Bill for tribals in next Budget session
New Delhi, January 27
The government has announced its decision to bring a Bill on granting land rights to tribal communities in forest areas in the forthcoming Budget session of Parliament. An official press note issued from the Prime Minister's Office said Dr Manmohan Singh had given his approval for the introduction of the Bill.
Bilkis case deferred
Mumbai, January 27
On a defence plea, a special court today deferred till February 8 the Bilkis Bano gangrape-cum-massacre case, but warned that it would not allow further adjournments. On January 13, the court had framed charges against the accused for their alleged complicity in attacking a group of 17 members of the minority community in the aftermath of Godhra riots on March 3, 2002.
Chhattisgarh Plan approved
New Delhi, January 27
The Planning Commission has approved an annual plan of Rs 4,275 crore for Chhattisgarh for 2005-06, which is nearly Rs 1,000 crore more than the last year's plan.
Hoax call
New Delhi, January 27
The police authorities went into a tizzy after a call was received on Tuesday afternoon in the Home Ministry control room that a bomb had been planted in the Jama Masjid and would go off any time.
Pension hiked
New Delhi, January 27
The Cabinet has decided to increase the basic pension to unemployed and unmarried daughters of freedom fighters to Rs 1,500 per month. Under the existing norms, the eldest daughters used to get Rs 600 and other two daughters Rs 350 each. Now it has been raised to Rs 1,500 for all.
Varsities told to follow revised leave rules
New Delhi, January 27
The UGC has asked all universities to follow the revised rules for leave as prescribed by the commission.



Videos
It seems West Bengal is all set to make its presence felt in the rose market of India.
(28k, 56k)