Rain spoils mela; rewards Valentines
Even after Valentine's Day, Sheesh Mahal served as a perfect dating place for love-struck couples. Least interested in the rich crafts on display, the youth made themselves comfortable in all corners of the venue which looked even more stunning in the rain. Where the artisans were seen sulking in bad weather, the young ones were busy soaking wet and sipping into freshly brewed coffee.
Exponent of Mohan veena finds talent in Tihar Jail inmates
Patiala, February 15
Pandit Vishwa Mohan Bhatt's urge for newness has always taken him to unknown destinations. It was this very urge that inspired the creation of Mohan veena, which became his link to the coveted Grammy in 1994.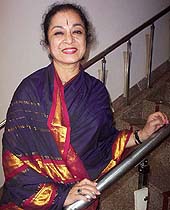 Spilling sculpturesque charm
Patiala, February 15
Had it not been for Indrani Rehman, Kiran Segal, would not have cherished Odissi the way she does. Floored by the lyrical patterns of the magnificent form, its sculpturesque grace and its nostalgic charm, Kiran detoured from the predictable path which would have led anywhere except where it did. And in no way did she let her mother Zohra Segal down. Like her parents she may not have followed in Uday Shankar's ballet tradition, but much like them she pursued the path of experimentation to nourish her chosen form with vim and vigour.
Odissi dancer Kiran Segal
Savita Devi enraptures with myriad musical shades
Patiala, February 15
Those who watched Savita Devi in recital last evening would know why she is called the darling of concert circuit. The clarity of diction, the flourish of style, the punch of repertoire and the elegance of presentation – this daughter of thumri queen Siddheshwari Devi has everything going for her.
Mohiniyattam rescuer wants to go global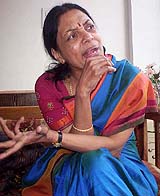 Patiala, February 15
For someone who single-handedly rescued a dying art form, virtually reconstructing it through years of research, Bharati Shivaji is not one to rest on her laurels. The artiste now even wants to incorporate North Indian traditions in mohiniyattam, the Kerala dance form, and even go global by incorporating western classical music traditions into it. Bharati Shivaji's has been a long journey. Ironically, she trained in bharatnatyam and odissi from the age of eight and it was only later that she took to mohiniyattam. Her mother K. Shankari, who was a vocalist, introduced her to music and dance.


Contractors exploit migrants from Bangladesh, Burma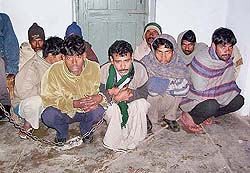 Gurdaspur, February 15
Illegal migrants from Burma and Bangladesh are being forced to work as bonded labourers just for ration for two meals by human traffickers. If they try to resist their exploitation, they are handed over to the police.
Illegal migrants from Bangladesh and Burma who were caught by the Gurdaspur police.
— Photo by Jangi

Priest succumbs to injuries
Amritsar, February 15
The death of Christian priest Father Mark has turned into an emotional issue, which has divided the Christian community here over his burial. Father Mark succumbed to his serious injuries at a private hospital here today. He was injured under mysterious circumstances while allegedly handling explosives in his house in the Gumtala area on February 13.
Protest march against Ashutosh
Bathinda, February 15
Bhai Balwant Singh Nandgarh, Jathedar, Takht Damdama Sahib, today urged the state government to impose a ban on the activities of Ashutosh, head of the Divya Jyoti Jagriti Sansthan, as the same were against the Sikh religion and aimed at disturbing the communal peace and tranquillity in the state.
Corporation staff not paid salaries
Chandigarh, February 15
Ousted employees of the Punjab Land Development and Reclamation Corporation ( PLDRC) have been running from pillar to post to get their balance dues from the state government. But to no avail.
Court stays operation of Wakf Board decisions
Chandigarh, February 15
The Punjab and Haryana High Court today stayed the operation of the decisions taken by the members of the Punjab Wakf Board at a meeting held on February 11. The petition was filed by Ms Razia Sultan, MLA, who is also chairperson of the Wakf Board, challenging the legality of the meeting in which all powers were vested in Punjab Police ADGP Mohammed Izhar Alam, who is also the official member of the board.
Weather prevents Army Chief from immersing mother's ashes
Kiratpur (Ropar), February 15
Army Chief J. J. Singh could not immerse ashes of his mother into the Sutlej in Kiratpur Sahib today as the helicopter he has to board from Chandigarh did not take off due to poor weather conditions.
Residents burn effigy of DC, observe bandh
Goniana (Bathinda), February 15
A complete bandh was observed in this town and effigies of the Deputy Commissioner and the Executive Officer of the local Municipal Council were burnt by residents to lodge their protest against the construction of a new bus stand by a private agency. The bus stand has been located away from the town.
Signals celebrates Raising Day
Bathinda, February 15
The Corps of Signals celebrated its 94th corps Raising Day here today. The corps that has spectacular achievements in the field of communication and technology, has brought laurels to the country in operations, disaster management, sports and adventure.
Daughters seek freedom from father
Jaito, February 15
Four girls in the age group of 6 to 14 residing in Hardayal Nagar have alleged before the SDM that their father had held them hostage and tortured them. They somehow escaped and appeared before the SDM.
Milk testing camp held
Fatehgarh Sahib, February 15
To educate consumers about the quality of milk supplied to them by milkmen, the district Dairy Development Department today organised a special milk testing camp at Sirhind today.
Associates of Bhai Ram Singh term video as doctored
Amritsar, February 15
Close associates of Bhai Ram Singh have termed the video, which showed late Baba Thakur Singh, former acting Jathedar of Damdami Taksal, divesting Bhai Ram Singh of the headship of the Taksal, as doctored.
Training programmes for dairy development
Chandigarh, February 15
For promoting dairy development as a vocation in Punjab and to provide avenues of self-employment to youth, the state government is undertaking a special training campaign.
68 persons operated upon
Jalandhar, February 15
As many as 68 patients, afflicted with lip shape disorders were operated upon by a 24-member team of Canadian doctors during a 10-day-free-surgical camp, which concluded at the local Dr Shangara Singh Hospital yesterday.
PAFC clarifies
Amritsar, February 15
The Punjab Agro Foodgrains Corporation (PAFC) Limited today clarified that the PAFC will not give Rs 20 per quintal extra to farmers as told by an official of the corporation.
SAD to observe Tohra's death anniversary
Fatehgarh Sahib, February 15
The first death anniversary of panth rattan Gurcharan Singh Tohra will be held on March 6. This was stated by a former minister, Capt Kanwaljit Singh, while speaking to media persons at Baba Banda Singh Bahadur Engineering College, here, today.


BKU (L) demands girdawari of damaged crops
Bathinda, February 15
Activists of the Bharti Kisan Union (Lakhowal) staged a dharna in front of the office of Deputy Commissioner here yesterday. They demanded girdawari of crops damaged by hailstorms and heavy rain.


SAD leader arrested for embezzling funds
Moga, February 15
The Vigilance Bureau has arrested Shiromani Akali Dal leader Sukhdev Singh Mangewala on the charge of misappropriation of funds during his stint as sarpanch of Mangewla village between 1992 and 1997.
Body found
Bathinda, February 15
An unidentified person was found dead under mysterious circumstances in this town today. The body was recovered from the bushes along a distributary passing from Jodhpur Romana village in this district. The deceased, who was about 45 years, looked a migrant labourer. There was an injury mark on the head of the deceased and his body was having blood stains.
Man arrested for brother-in-law's murder
Kharar, February 15
A resident of Kharar was arrested by the police today on the charge of murdering his brother-in-law. According to the police, Dalbir Singh alias Dadi, a resident of Guru Nanak Colony, Badala road, was arrested for the alleged murder of Ajaib Singh.


UK teachers interact with Indian teachers, students
Patiala, February 15
The Queen of England may be in her manor but teachers from her land are out in her ancestors' former colony making an objective analysis of how her language — English — is taught in schools in Punjab.
Young Scientist award for Batala teacher
Batala, February 15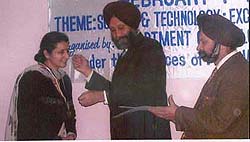 Dr Manju Dewan, lecturer in zoology, R.R. Bawa DAV College for Girls, has won this year's Young Scientist award at the eighth Punjab Science Congress held at Punjabi University, Patiala.

Dr Manju Dewan receives the award from Dr S.P.S. Virdhi, Dean (Academic), Punjabi University, and Dr I.J.S. Bansal, president, Punjab Academy of Sciences, in Patiala.
Seminar on ethical concerns
Patiala, February 15
The Head of the Department of Religious Studies, Punjabi University, Dr Harpal Singh Pannu, said here today that religious heads seemed to have forgotten their duties toward the community.