PUNJAB

HARYANA

JAMMU & KASHMIR

HIMACHAL

REGIONAL BRIEFS

NATION

OPINIONS

MAILBAG

BUSINESS

SPORTS

WORLD


S P O R T S

BCCI to finalise itinerary today
Indo-Pak series
New Delhi, February 16
With the series against Pakistan just a week away, the Indian cricket board meets here tomorrow to ratify the final itinerary and discuss a host of other issues, including award of television rights, for the high-profile series.



BCCI challenges Zee plea on telecast rights



Security beefed up at Kanpur stadium after Shiv Sena activists' bid to dig up pitch. (28k, 56k)

Manager clears Shoaib of misconduct


Islamabad, February 16
In a major relief to Shoaib Akhtar, who faces a disciplinary hearing tomorrow, Pakistan team manager Haroon Rashid has cleared the fast bowler of charges of off-field indiscipline levelled against him during the team's recent tour of Australia.
North concede lead to West
Lucknow, February 16
North Zone's highly rated batsmen failed to live up to the expectations as the side suffered a dramatic collapse to concede the first innings lead to West Zone in the Duleep Trophy cricket match here today.



Medium-pacers rule the roost
Waugh keen to set up 'Cricket City'
Kolkata, February 16


Former Australian skipper Steve Waugh has evinced interest in setting up a 'Cricket City' on 100-150 acres of land in or around the metropolis. The project would include a cricket ground, a bungalow, an academy complex and a resort, according to the plan unveiled by the cricketing legend before West Bengal Chief Minister Buddhadev Bhattacharjee here yesterday.
Mohun Bagan, SBT split points
Kolkata, February 16
Three-time champions Mohun Bagan failed to translate overall supremacy into victory as they conceded a late goal to finish 1-1 with Kerala's State Bank of Travancore in a ninth National Football League outing here today.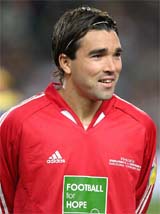 Spanish soccer club Barcelona's Portuguese striker Deco gestures before the "football for hope" benefit match to help tsunami victims, at Nou Camp stadium in Barcelona on Tuesday. Barcelona won the match 6-3. — Reuters



Natwar's visit will melt the ice, hopes Mani
February 16, 2005
Citing hamstring injury, Shoaib defies PCB
February 15, 2005
IOA vice-chief Malhotra for firm
stand on Ahmedabad
February 14, 2005
BCCI will go by govt decision, says Ranbir
February 13, 2005
Sania marches into final
February 12, 2005
Sania Mirza storms into semifinals
February 11, 2005
Sania storms into last 8
February 10, 2005
Sania keeps Indian hopes alive
February 9, 2005
Security our sole concern, says Pakistan board
February 8, 2005
India to ask Pak to review stand on Ahmedabad
February 7, 2005