PUNJAB

HARYANA

JAMMU & KASHMIR

HIMACHAL

REGIONAL BRIEFS

NATION

OPINIONS

MAILBAG

BUSINESS

SPORTS

WORLD
Sunday, February 20, 2005, Chandigarh, India
Updated at 3:00 am (IST)
Kashmir cut off and in darkness
14 buried in snow
Srinagar, Shimla, Chandigarh, February 19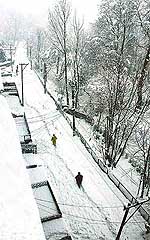 At least 14 persons including four Border Roads Organisation (BRO) personnel, were feared killed and nearly 35 others were trapped in several houses in Jammu and Kashmir, where heavy snowfall and continuous rains for the past two days have forced the closure of the Jammu-Srinagar highway and several roads linking remote corners with main towns.

A snow covered road in Srinagar, on Saturday. The valley has been cut off from the rest of the world.
— Reuters photo



J&K page: Blocked highway starves valley of essential commodities

Vaishano Devi pilgrimage suspended


Prof Gupta accuses govt of negligence


Himachal page: 20 passengers stranded in Lahaul valley


Chandigarh page: Chill returns to city

CAST YOUR VOTE
Are political parties right in shepherding Goa MLAs around?



FORUM

EDUCATION

JOBS & CAREERS

HEALTH & FITNESS

SCIENCE & TECHNOLOGY

SPORTS

SOCIETY

TRIBUNE CLASSIFIEDS

BRIDES WANTED

GROOMS WANTED

OTHERS

HOW TO PLACE ADVTS
In Society today
PM ready to attend Dhaka SAARC summit in March-April


New Delhi, February 19
India is ready to participate in the twice-postponed 13th summit of South Asian Association for Regional Coperation (SAARC) in Bangladesh and Prime Minister Manmohan Singh will be willing to travel to Dhaka anytime between March 25 and April 12 this year when the Indian Parliament's Budget session will be in recess.
Quake rumour sends tremors in Kangra, Chamba
Thousands spend night in the open
Kangra, February 19
The rumour of an expected earthquake in the Kangra valley forced thousands of residents in the region to rush out into the streets after midnight.



Nation page: SC notice on quake-resistant buildings


Panic in TN after quake in Indonesia

QUOTE OF THE DAY
"Chautala's remarks amount to character assassination."
—Election Commission

THE TRIBUNE MAGAZINES
On Sundays

On Saturdays

Kidnappers kill 6-year-old boy in Rewari
Rewari, February 19
Apparently irked at the non-payment of ransom and information to the police, kidnappers killed Ankit Yadav (6) and threw his body in a mustard field near Bhatera village, about 14 km from here, from where it was recovered last evening.



Remand of Abhi case accused extended
Chautala's remark beneath contempt: EC
New Delhi, February 19
The Election Commission today dismissed the personalised attack by Haryana Chief Minister and INLD chief Om Prakash Chautala on Chief Election Commissioner T.S. Krishna Murthy as "beneath contempt."

Haryana page:


Haryana Vikas Morcha seeks annulment of poll


Chautala blasts EC move to prepone counting of votes


Chautala's claim on postal ballots disputed

Haryana Cong wants counting on Feb 24
New Delhi, February 19
The Haryana Pradesh Congress Committee has written to the Election Commission requesting it to take up the counting of votes for the state Assembly polls on the morning of February 24 instead of the previous afternoon.



BJP also for February 24


Plane engine catches fire
Jammu, February 19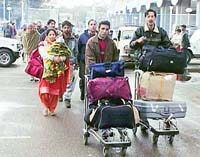 As many as 120 Leh bound passengers of Allianz airlines had a miraculous escape here today as the engine of the aircraft caught fire during takeoff.

As many as 120 passengers of an Alliance Air plane had a miraculous escape as the Jammu-Leh flight (IC-7425) was grounded at Jammu airport on Saturday. — Photo Serbjeet Singh



Snow, avalanches in Kashmir
February 19, 2005
HC stays own order on appointments
February 18, 2005
Bus to Muzaffarabad from April 7
February 17, 2005
Kidnapped student killed
February 16, 2005

Restore democracy, India tells Nepal
February 15, 2005
EC lodges FIR on Gujarat riots CDs
February 14, 2005
Military aid to Nepal suspended
February 13, 2005
N. Korea goes nuclear
February 12, 2005
11,000 troops airlifted
February 11, 2005