PUNJAB

HARYANA

JAMMU & KASHMIR

HIMACHAL

REGIONAL BRIEFS

NATION

OPINIONS

MAILBAG

BUSINESS

SPORTS

WORLD
Monday, February 21, 2005, Chandigarh, India
Updated at 3:00 am (IST)
40 die as avalanches bury houses in J&K
Srinagar/Shimla/Chandigarh, February 20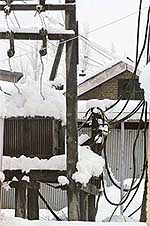 Forty persons were killed in house collapses triggered by avalanches and landslides in Jammu and Kashmir as the heaviest snowfall in a decade and a half paralysed normal life in the Kashmir valley which remained cut off from the rest of the country for the third day today.


In video (28k, 56k)

Heavy snow has clogged the transmission lines in the Jawahar Tunnel area of Jammu and Kashmir. — Tribune photo by Amin War



J&K page: J&K Government approaches IAF for emergency supplies


Himachal page: No luck for stranded passengers
CAST YOUR VOTE
Would the shifting of Pappu Yadav to Tihar Jail help curtail his activities?



FORUM

EDUCATION

JOBS & CAREERS

HEALTH & FITNESS

SCIENCE & TECHNOLOGY

SPORTS

SOCIETY

TRIBUNE CLASSIFIEDS

BRIDES WANTED

GROOMS WANTED

OTHERS

HOW TO PLACE ADVTS
Pak cricketers to arrive on February 28
Mohali Test from March 8
Thiruvananthapuram, February 20
The Pakistan cricket team will arrive on February 28 for a 50-day tour of India comprising three Tests and six-one-dayers, it was announced here today.


In video (28k, 56k)



Sports page: 10,000 visas for Pak cricket fans


Shoaib rues missing tour
Ethical issues involved in stem cell research: ICMR chief

Hyderabad, February 20
A day after a United Nation's committee resolved to ban "all forms of human cloning", India's topmost medical administrator today cautioned that stem cell research in this country, though having a huge potential, is riddled with "ethical, environmental, religious, cultural and political" factors.

In Forum today
What kind of a Budget would you like the Union Finance Minister to present?
The third instalment of the readers' views appears on Forum page

QUOTE OF THE DAY
Overall, it should be a Budget which fulfills the commitments made in the CMP and it should be pro-poor.
— CPI leader A. B. Bardhan

THE TRIBUNE MAGAZINES
On Sundays

On Saturdays

Units want entry tax on drugs from hill states
Chandigarh, February 20
The multi-crore small and marginal drug industry employing about 50,000 skilled and unskilled workers in Punjab, is in a quandary.
Shia-Sunni clash claims three lives
Lucknow, February 20
At least three persons were killed and as many as 15 were injured in sectarian violence in Lucknow and Kolkata, while six Shia leaders were detained in Srinagar for defying a ban on tazia procession during 'Ashura' of Muharram today.

In video (28k, 56k)

A boy throws stones during clashes between Shias and Sunnis in Lucknow on Sunday. Three men were killed during a tazia procession.
— Reuters photo
Exam fear claims six lives in Delhi
New Delhi, February 20
Parents should not mount pressure on their children ahead of next month's annual school exams, the fear of which has already led to six suicides, a top psychologist has warned.


Gaadiwalas on fast track
Kila Raipur, February 20
There is more to the annual February fete at Kila Raipur than just sport as was evident today when the sun stopped playing truant and smiled brightly in the clear blue sky as the three-day event came to a happy finale.


Sports page: Veterans shine on concluding day

A tense moment during the bullock cart race in the 70th Kila Raipur Rural Games near Ludhiana on Sunday. — Photo by Sayeed Ahmed

Kashmir cut off and in darkness
February 20, 2005
Snow, avalanches in Kashmir
February 19, 2005
HC stays own order on appointments
February 18, 2005
Bus to Muzaffarabad from April 7
February 17, 2005
Kidnapped student killed
February 16, 2005

Restore democracy, India tells Nepal
February 15, 2005
EC lodges FIR on Gujarat riots CDs
February 14, 2005
Military aid to Nepal suspended
February 13, 2005
N. Korea goes nuclear
February 12, 2005
11,000 troops airlifted
February 11, 2005