Dollar dreams go sour
Hoshiarpur, February 24
Lust for dollars turned out to be a nightmare for five youths of this district when they landed in Lebanon in September, 2004 and were trapped in the net of unscrupulous travel agents there.
Decks cleared for promotion of 2 PCS officers to IAS
Chandigarh, February 24
The Central Administrative Tribunal today paved the way for the promotion of two seniormost Punjab Civil Services officers to the Indian Administrative Service.
Pak delegates pay obeisance at Golden Temple
Amritsar, February 24
About 260 delegates of the Pakistan-India People's Forum for Peace and Democracy crossed over to India from the Wagah Joint checkpoint here today to participate in the four-day 7th Joint Convention of the forum to be organised in New Delhi from February 25.

Pakistani delegates of the Pakistan-India People's Forum for Peace and Democracy pay obeisance at Golden Temple on Thursday. — Photo by Rajiv Sharma


New police act draconian: Mann
Shahpur Kandi, February 24
The proposed police act of the state was draconian and would give sweeping powers to the police loosening the force from the control of the executive, said Mr Simranjit Singh Mann, president of the SAD (A), here today.
BJP youth wing's 'halla bol' rally on Feb 27
Chandigarh, February 24
As the Amarinder Singh government completes three years in office on February 27, the BJP's youth wing will greet it by organising a rally against it on that day in Ludhiana accusing it of following anti-people policies and doing nothing for the state.



Substandard material used for road: MLA
Kharar, February 24
MLA Kharar Bir Devinder Singh today demanded a vigilance inquiry into the upgrade of the Kharar-Banur road under the NABARD scheme. Talking to mediapersons during the inauguration of the annual kabbadi tournament at Bhago Majra village, the MLA said he was appalled at the poor state of the road between Landran and Banur.


The Landran-Banur road. — Tribune photo by Pradeep Tewari
Raise IT exemption limit to 1 lakh, FM urged
Fatehgarh Sahib, February 24
The Finance Minister should take care of the interests of employees in the Budget as for the past many years the Budgets had been pro-businessmen, said Dr. Dharminder Singh Ubha, Head, Department of Commerce, Mata Gujri College, Fatehgarh Sahib, in a letter to Finance Minister.
Junior doctors threaten agitation
Amritsar, February 24
The Junior Doctors Association today threatened an agitation if the government failed to provide security to doctors on the medical premises, especially in hospitals.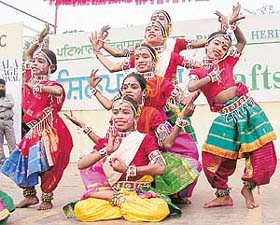 Young dancers from Orissa perform at Crafts Mela in Patiala on Thursday. — Photo by Rajesh Sachar
Fulfil demands within a month, vets tell govt
Chandigarh, February 24
The Punjab State Veterinary Officers Association has asked the state government to meet its genuine demands within a month or else face an agitation.
Quarrel in shobha yatra leads to clash
Phagwara, February 24
Altercations between two groups during the shobha yatra taken out on the eve of Guru Ravi Das Parkash Utsav snowballed into a violent group clash at Bhullarai Colony last night.
Missing son of DSP returns home
Kapurthala, February 24
Kamalpreet Singh, Class VII student of Christ King Convent School and son of Mr Puran Singh Purewal, a retired DSP of the Punjab police, who had gone missing 24 days ago finally returned home this morning.
Parents oppose decision to close academy
Anandpur Sahib, February 24
Staff members of Shri Dashmesh Academy and parents of the students today organise a rally on the campus in protest against the management's decision to close down the academy.
Tributes paid to union leader
Khippanwali (Abohar), February 24
A rally was held today in this remote village by the Lok Sangram Manch, along with a number of other organisations, to mark the first death anniversary of trade union leader Krishan Lal.




Aamir Khan in Amritsar
Amritsar February 24
Film actors Aamir Khan, Soha Khan, daughter of actress Sharmila Tagore and cricketer Nawab Pataudi, along with Kiran Kher, character actress, arrived here today amid tight security. The film troupe would be shooting for film "Rang De Basanti".

PSHRC orders probe into minor's rape
Moga, February 24
The Punjab State Human Rights Commission has asked the Director, Health Services, Punjab, ADGP, and Home Secretary, Punjab, to order probe into the case in which a minor hailing from Takhanwadh village was raped by her cousin who later got her foetus aborted, and submit a report to the commission before March 24.


Punjab Govt to pay relief to farmers
Ratharian (Muktsar), February 24
The Chief Minister of Punjab, Capt. Amarinder Singh, said today that the state government would launch a drive to clean the drains dug up in the district and others areas to check waterlogging.


Revenue record to be computerised
Abohar, February 24
The Revenue Department is equipping itself to computerise the entire record from April 1, Mr M.L. Puri, Tehsildar, said while inaugurating the first phase of a 20-day training programme for the patwaris and other employees posted in Abohar and Fazilka subdivisions here today.


One killed, 3 hurt in mishaps
Kharar, February 24
One person was killed and three injured in two accidents around the town. In an accident that took place near Khanpur chowk late last night, Ashwini Kumar was killed after his car and a truck collided. He was taken to the local Civil Hospital by policemen.


US medical institute ties up with local college
Amritsar, February 24
The local Government Medical College has been connected with the University of Cincinnati for the latest medical know-how to improve the infrastructure of the alma mater institution.
Bungling in schools under NCLP project
Amritsar, February 24
The Assistant Commissioner (Grievances) has found glaring discrepancies in the working of schools running under the National Child Labour Project and has urged the authorities to hold an inquiry into the working of these schools.
Environment education need of hour, says IG
Patiala, February 24
Patiala Zonal Inspector General of Police Rajinder Singh yesterday said environmental education was the need of the hours for tiny tots.
Roll numbers of X, XII students despatched
Mohali, February 24
The Punjab School Education Board has despatched roll numbers of students appearing in the matriculation and Class XII examinations starting from March 2.