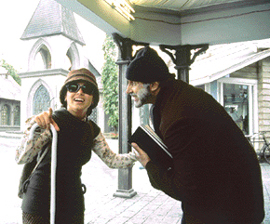 A good film makes us see the difference between reel and reality. The depiction of the disabled in cinema reflects the values a society lives by, writes Shastri Ramachandaran.
World of
black
Romance at work
Since many single adults spend most of their waking hours at work, it seems the combination of long hours, close quarters and the slow hum of the photocopy machine may be the perfect recipe for romance. But beware of the consequences, says a research.
Keepers of tradition
Aditi Tandon on four artists who have emerged from the shadow of legends to evolve a style of their own.
Celebrated lineages are easier flaunted than kept. Not surprising then that inheritors of glorious traditions often sink without a trace.
Tear-jerkers lose steam
Filmmaker Vinta Nanda, who has directed White Noise on the hypocritical world of Indian television, says the age of family tear-a-minute soaps is over. "The age of the 'saas-bahu' serials is ending," says Nanda, who wrote Tara, one of the most successful soaps ever on Indian television.
...the Oscar goes to
Clint Eastwood's Million Dollar Baby walked away with the top awards at the Oscars, pipping favourites Ray and The Aviator, reports Ervell E. Menezes

Sister act
Siblings often take to the same profession. There are sister or brother pairs in business, law, medicine and media. But few have noticed that Bollywood and super-modelling, too, have produced famous pairs, writes Vimla Patil.

Your own film fest
The second year of the experimental festival in Puri drew a number of young, new film-makers. Bibhuti Mishra reports