Chart out your growth in social sector
The spectrum of opportunities for sociologists is as vast as society itself. They can work as census officers, counsellors, social welfare and labour officers, among other things, writes Inderdeep Thapar
Sociology is a subject that attracts many students but the general perception is that its scope is confined mainly to teaching and to being a scoring option for the civil services examinations. However, in reality, students of sociology have myriad work opportunities before them, within the country as well as abroad.
Course Chat
Census and sensibility
CAREERCATURE
by Sandeep Joshi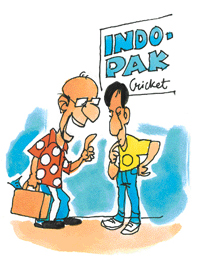 I would've been a bookie, but I couldn't bet on the job.


Talking point
How are job fairs better than campus placements?
Job festivals are a meeting ground for job-seekers and companies in search of talent. Their popularity is fast increasing in City Beautiful, with three such events having been organised in the last few months. What are the advantages that job fairs offer over campus recruitments and routine job hunting? Geetanjali Gayatri finds out.
Says Navneet Trikha of Shoppers' Stop, who put up a stall at the recent ITFT job fest, "Job fairs enable us to interact with a variety of people on one platform. I strongly advocate organising more job fests since these provide a mix of raw and experienced hands.

Recruitment route
"Short tenures can be a grey area in your job history"
Chetna Keer Banerjee
Shailendra Dave, Head of HR, Integreon, Mumbai, has 11 years of experience in human resources and administration. Apart from a generalist HR role, he has proven his competencies in areas like organisational climate surveys, managerial development practices, performance management, and change agent for OD interventions such as internal focus groups.
Note the quote
The difference between a job and a career is the difference between 40 and 60 hours a week.

— Robert Frost
---

Placement pulse
India Inc homes in on Class of 2005
Placements 2005 at IIM-Indore were distinguished by the participation of companies from a wide range of industry sectors, a 66 per cent increase in the number of recruiters, veritable downpour of lateral offers and a 20 per cent increase in the average salary. The average accepted CTC salary was 8.16 lakh. The corresponding figure for the lateral offers stood at 8.60 lakh.

Smart Skills
Taste of things to come
Usha Albuquerque
Pop the cork and raise a toast to the Indian wine industry! With more and more Indians beginning to enjoy good wine, the industry has been bubbling. Today, wine is not only produced in India, but there is also a huge demand for a variety of wines from around the world.

CAREER HOTLINE
Multimedia mastery