PUNJAB

HARYANA

JAMMU & KASHMIR

HIMACHAL

REGIONAL BRIEFS

NATION

OPINIONS

MAILBAG

BUSINESS

SPORTS

WORLD


B U S I N E S S

WB offers $ 500 m aid for e-gov scheme
New Delhi, March 13
The World Bank has agreed 'in principle' to partly finance India's National E-governance Plan by providing an aid of $ 500 million in the next four years. The multi-pronged project will empower rural citizens and will improve government effectiveness and promote private sector growth.
Elusive bank credit leaves farm sector parched
New Delhi, March 13
The financial institutions, including commercial, rural and cooperative banks have failed to reach over 5.5 crore farming families, around 55 per cent of around 10 crore total farmer households in India, over the years.
Tata AIG plans to come out with
customised products


Ludhiana, March 13
While majority of private insurance companies follow a product-based strategy, it is a customer-oriented approach that Tata AIG life Insurance Company Ltd wants to rely on with a view to carve a niche for itself in the market.

PNB issue price fixed at Rs 390
New Delhi, March 13
Punjab National Bank has fixed the issue price for its second public issue of face value of Rs 10 each at Rs 390 per equity share that has been oversubscribed by 15.63 time, Mr S.S. Kohli, CMD, PNB, said today.


| | | |
| --- | --- | --- |
| | MARKET UPDATE | |
Stick to staggered long-term investment approach
Markets decided to take a breather last week as it inched towards the much-awaited 7,000 level. The Sensex gained 4 points to close the week at 6853 and the nifty crawled by 6 points at 21,54.


| | | |
| --- | --- | --- |
| | TAX ADVICE | |
Interest on PPF not taxable
Q. I want to know whether the interest on PPF account has become taxable after this year Budget?



Section 88


MEP units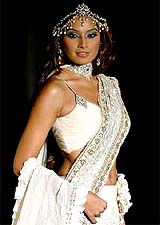 Bollywood actress Bipasha Basu displays a costume designed by fashion designer Rocky S at the Blenders Pride Fashion Tour 2005 in New Delhi on Saturday night. The two-day fashion show event concluded today in which the country's leading fashion designers showcased their designs. — PTI


Tourists flock to North India again
March 13, 2005
Further fall in ISD rates likely
March 12, 2005
LPG-run vehicles suck oil companies' profits
March 11, 2005
Vat panel tries to assuage traders
March 10, 2005
Accor plans 25 economy hotels in India
March 9, 2005
Threshold turnover limit on fringe tax likely
March 8, 2005
It's lay-off March at Quark
March 7, 2005
Finance Ministry, RBI to ensure benign interest rates
March 6, 2005
TDSAT justifies Rs 150-cr penalty on Reliance Info
March 5, 2005
Bull gallops on the bourses
March 4, 2005