PUNJAB

HARYANA

JAMMU & KASHMIR

HIMACHAL

REGIONAL BRIEFS

NATION

OPINIONS

MAILBAG

BUSINESS

SPORTS

WORLD
Tuesday, March 15, 2005, Chandigarh, India
Updated at 3:00 am (IST)
BREAKING NEWS
Arjun Munda wins trust vote
Namdhari elected as Speaker
New Delhi, March 15
Jharkhand Chief Minister Arjun Munda won the vote of confidence in the Assembly today. (Updated at 1:00 pm)
Speaker adamant, but in a fix
Many presiding officers may boycott conclave
New Delhi, March 14
With Presiding Officers of NDA-ruled states being advised to stay away from Lok Sabha Speaker Somnath Chatterjee's specially convened meeting of the Presiding Officers of state legislatures on March 20, the Chairperson of the House of the People has decided to bash on regardless to restore "Constitutional Balance" among the Executive, the Judiciary and the Legislature.

Special article: Shocking signals
SC directs CVC to scrutinise Taj case documents
New Delhi, March 14
Not satisfied with the CBI move to close the Rs 175-crore Taj corridor case against former Uttar Pradesh Chief Minister Mayawati, the Supreme Court today directed the Central Vigilance Commission to determine whether its move was correct.
CAST YOUR VOTE
Is Nitish Kumar right in suggesting the abolition of Governor's post?



FORUM

EDUCATION

JOBS & CAREERS

HEALTH & FITNESS

SCIENCE & TECHNOLOGY

SPORTS

SOCIETY

TRIBUNE CLASSIFIEDS

BRIDES WANTED

GROOMS WANTED

OTHERS

HOW TO PLACE ADVTS
Industrialists moot Indo-Pak joint trade office
Lahore, March 14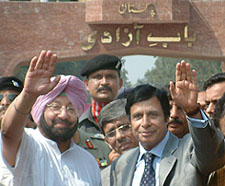 Industrialists of India and Pakistan have mooted the idea of setting up a joint trade office at Wagah border to facilitate trade on both sides.

Punjab Chief Minister Capt Amarinder Singh and Mr Pervaiz Elahi, Chief Minister of Pakistan Punjab, wave to Indians after the former crossed over to Pakistan on Monday. — Tribune photo by Rajiv Sharma

Unprecedented welcome to Indian delegation
Punjab page:


Capt rules out Cabinet reshuffle


Civil Secretariat remains deserted
World page:
Pak hoping Manmohan would host Pervez

| | |
| --- | --- |
| | PUNJAB: Capt rules out Cabinet reshuffle |
| | HARYANA: No takers for Panchkula houses |
| | |
| | HIMACHAL: Chief Minister introduces fiscal responsibility Bill |
| | DELHI: Passport racket busted |
| | CHANDIGARH: Price fixation panel decides relief |
| | LUDHIANA: MC demolishes illegal shops |
| | OPINIONS: In Modi's service |
| | |
| | NATION: SC disposes of Munda's petition |
| | |
| | |
Full coverage: India vs Pak

2005
QUOTE OF THE DAY
It would be a great honour for Kerala to host him. I personally would do my best to ensure that General Pervez visits Kochi.

— Oommen Chandy

THE TRIBUNE MAGAZINES
On Sundays

On Saturdays


Mild quake in Maharashtra, Karnataka
Mumbai, March 14
Panic spread in different parts of Mumbai after a minor earthquake measuring 5.1 on the Richter scale with its epicentre at Koyna, 300 km away, was felt in the city.
Two held for selling 'CBSE question papers'
New Delhi, March 14
Reassuring that the question paper that was being surreptitiously sold to students hours before the exam has not 'even 0.1 per cent in common with the real CBSE question paper', the CBSE Chairman, Mr Ashok Ganguly, today blamed the Economics Offence Wing of the Delhi Police and the media for causing 'unnecessary panic among students'.
IAF ready to take back Air Marshal Masand, SC informed
New Delhi, March 14
The Ministry of Defence today informed the Supreme Court that the Indian Air Force had agreed to take back Air Marshal Harish Masand, who was denied promotion and had subsequently retired, with full honours and financial benefits.

Opinions page: Aerospace Command a necessity: new Air Chief
Jawan kills girlfriend, attempts suicide
UPA to contest Jharkhand Speaker's post
March 14, 2005

Munda, 5 others
sworn in
March 13, 2005

Soren quits, Munda made CM
March 12, 2005

Speaker to seek Kalam's view on SC order
March 11, 2005

Jharkhand floor test on March 11
March 10, 2005

Bihar's turf war shifts to Union Cabinet
March 9, 2005

President's rule imposed on Bihar
March 8, 2005

President's rule likely in Bihar
March 7, 2005

Hooda takes oath as Haryana CM
March 6, 2005

Hooda to be Haryana CM
March 5, 2005

Kalam summons Jharkhand Governor
March 4, 2005