PUNJAB

HARYANA

JAMMU & KASHMIR

HIMACHAL

REGIONAL BRIEFS

NATION

OPINIONS

MAILBAG

BUSINESS

SPORTS

WORLD
Wednesday, March 16, 2005, Chandigarh, India
Updated at 3:00 am (IST)
Munda wins trust vote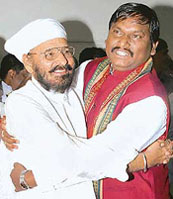 Namdhari elected Speaker
Ranchi, March 15
Backed by 40 MLAs, Jharkhand Chief Minister Arjun Munda won a vote of confidence in the 81-member Assembly today. Ruling party nominee and state JD (U) president Inder Singh Namdhari was, earlier, elected Speaker by a voice vote. With this, the fortnight-long political uncertainty ended in the state.
Newly elected Jharkhand Assembly Speaker Inder Singh Namdhari and Chief Minister Arjun Munda embrace each other after winning the trust vote by 40 to 38 in Ranchi on Tuesday. — PTI photo

CAST YOUR VOTE
Do you support the setting up of a joint trade office at Wagah border to facilitate Indo-Pak trade?



FORUM

EDUCATION

JOBS & CAREERS

HEALTH & FITNESS

SCIENCE & TECHNOLOGY

SPORTS

SOCIETY

TRIBUNE CLASSIFIEDS

BRIDES WANTED

GROOMS WANTED

OTHERS

HOW TO PLACE ADVTS
In Health & Fitness today
New Delhi, March 15
As US Secretary of State Condoleezza Rice arrived here this evening on her maiden bilateral visit to India, key sources in South Block said the Government of India's focus would be giving a fillip to Indo-US ties rather than Pakistan-related issues.

US Secretary of State Condoleezza Rice disembarks from a plane soon after her arrival at New Delhi airport on Tuesday. — Reuters photo

Opinions page: Advanced Patriots on offer


World page: India, Pak yet to mount N-warheads on delivery systems, says US report
SC resents being 'approached' in fodder scam case
New Delhi, March 15
A Supreme Court Bench, headed by Mr Justice S.N. Variava, today took a serious view of somebody 'approaching' him about changing the Special Judge in Patna, holding trial in the fodder scam case involving Railway Minister Laloo Prasad Yadav and in a disproportionate assets (DA) case faced by him jointly with wife and former Chief Minister Rabri Devi.
| | |
| --- | --- |
| | |
| | HARYANA: Chander Mohan's elevation changes order of precedence |
| | |
| | HIMACHAL: Oppn members disrupt House proceedings |
| | |
| | CHANDIGARH: Admn announces policy on special economic zone |
| | |
| | OPINIONS: Munda wins |
| | |
| | |
| | WORLD: China blasts Taiwan for distorting anti-secession law |
| | |
Full coverage: India vs Pak

2005

QUOTE OF THE DAY
More important than the match, I would like to meet Indian leaders and I know there is desire on the other side, and I look forward to making this meeting a little more concrete, to move the process forward.
— Pervez Musharraf
THE TRIBUNE MAGAZINES
On Sundays

On Saturdays

Chander Mohan is Deputy CM
Chandigarh, March 15
Mr Chander Mohan, MLA from Kalka and elder son of the Haryana Congress president, Mr Bhajan Lal, was today designated as the Deputy Chief Minister. The Governor, Dr A.R. Kidwai, who allotted the portfolios to Ministers on the advice of the Chief Minister, Mr Bhupinder Singh Hooda, also bestowed the designation of Deputy Chief Minister on Mr Chander Mohan.



Haryana Page: Chander Mohan's elevation changes order of precedence


In video: (28k, 56k)


Pervez orders release of 83 detainees
Islamabad, March 15
Realising the genuineness of the issue of Indian civil detainees raised by Punjab Chief Minister Amarinder Singh, Pakistan President Pervez Musharraf today ordered the immediate release of 83 detainees as a goodwill gesture.

Musharraf visit on, but Kochi is out


36 Pak visitors missing


History invoked at Panja Sahib


Pak Punjab Governor gives Rs 5 cr for gurdwara renovation
Shakti Kapoor apologises


In video (28k, 56k)
Kerala Sampark Kranti Express to run up to Chandigarh
New Delhi, March 15
The Railways is gearing up to compete with the Chinese railways, a benchmark set up to improve its efficiency. Without increasing passenger or freight fare, it has succeeded in improving its earnings by 8 per cent this year and share in total freight, said Railway Minister Laloo Prasad Yadav today in the Lok Sabha while replying to the debate on the Railway Budget.
Speaker adamant, but in a fix
March 15, 2005

UPA to contest Jharkhand Speaker's post
March 14, 2005

Munda, 5 others
sworn in
March 13, 2005

Soren quits, Munda made CM
March 12, 2005

Speaker to seek Kalam's view on SC order
March 11, 2005

Jharkhand floor test on March 11
March 10, 2005

Bihar's turf war shifts to Union Cabinet
March 9, 2005

President's rule imposed on Bihar
March 8, 2005

President's rule likely in Bihar
March 7, 2005

Hooda takes oath as Haryana CM
March 6, 2005

Hooda to be Haryana CM
March 5, 2005

Kalam summons Jharkhand Governor
March 4, 2005