THIS ABOVE ALL
Search for solitude
Khushwant Singh
MOST people welcome friends and relatives dropping in. Politicians have them in droves with favour-seekers and hold daily darbars on their lawns. Others, usually described by papers as socialites organise coffee parties, luncheons, cocktail parties, receptions, bottle parties, dinner parties to ensure they have lots of people around them. Even the aged canít bear the thought of being alone. If their grown-up children are busy earning their livelihood, they turn for company to their grandchildren. If their grandchildren get bored with them or are at school, they go to temples or gurdwaras to seek solace in the company of worshippers. In short, most normal people canít bear to be alone.
EARLIER COLUMNS

Making peace with Partition
March 26, 2005


Making of a leader
March 19, 2005


Equality check
March 12, 2005


One manís belief is anotherís shackle
March 5, 2005


The good, the bad & the ugly
February 26, 2005


The light of other days
February 19, 2005


The fiction of Tagore
February 12, 2005


Gossip is what gossip does
February 5, 2005


Kingdom of God
January 29, 2005

I am evidently not normal; so wasnít Allama Iqbal when he lamented: "Duniya kee mehfilon say ukta gayaa hoon, Ya Rab" ó (O God, I am fed up of people). I think I am a nutcase getting nuttier by the day. My patience with people is getting shorter. When my phone rings, I donít pick up the receiver, or tell blatant lies to avoid people asking to have my darshan, seek my blessings or exchange ideas. I spend more and more time in the seclusion of my bedroom pretending to be ill; or sit in my enclosed patch of garden hidden from sight behind bushes. What I would like is to live in a cave in the Himalayas inaccessible to humans but with all creature comforts like electricity, airconditioning, running hot and cold water, gourmet food served punctually at meal times, and needless to say, an inexhaustible supply of vintage wines and premium Scotch. No telephone, no TV, only satellite radio to switch on classical western music. For spiritual uplift, I would have a panoramic view of the Ganga leaping over rocks and boulders on its journey to the plains. She is the only goddess I worship because she is more beautiful than all the goddesses put together and does not demand anything besides my gazing at her in adoration.
Such fantasies erupt in my mind every year around Baisakhi when dust laden, hot winds start blowing in the plains and life in Delhi which is unpleasant enough most of the time becomes unbearable. Then words of the 121st Psalm start going round in my head: "I will lift mine eyes unto the hills whence cometh my help; my help cometh from the Lord, which made heaven and earth." I do not have a five-star cave in the Himalayas to escape to; but I have pretty little cottage in the Shivaliks which is equipped with everything I need. It does not overlook the Ganga but a pine-covered valley running steeply downhill into the stream which has no name but on still, moonlit nights I can faintly hear the sound of its rushing waters.
Perfect mismarriage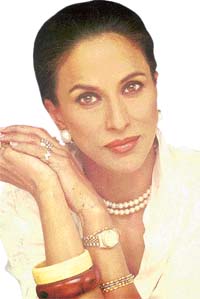 Shobhaa De: Not the last word on marriage
Shobhaa Deís Spouse, emphasising the need to make love in words and deeds to keep a marriage going, has provoked Amarinder Bajaj, a gynaecologist who has seen many marriages end up on the rocks, to pen some verses highlighting the plight of women whose union did not turn out to be as blissful as Shobhaa Deís. The first spells out woes of a sati savitri, whose suhaag is more a compromise than a meeting of souls.
We share a roof
But not a bed
We share the kids
But not our dreams.
We share social space
But not our privacy
We share household
expenses
But not a home
We share small talk but
Do not communicate;
And yet I do not complain
For.
Havenít we managed to convert
A failed marriage to
One of convenience?
De prescribes lots of sex with adequate body cleansing to keep the marriage ticking. If your spouse doesnít deliver the goods, there is an alternative:
So what if I hug a pillow at night
It does not suffer from halitosis and
Does it belch or pass foul wind.
It moulds itself which way I want and
And does not want to change sides just
When I am comfortably settled.
It doesnot force itself on me;
When Iím not in the mood
And leaves me awake
When I need to be needed,
It does not snore like a rattlesnake
With its tail on fire or speak in sleep.
It does not keep me awake,
Watching late night TV
Or wake me up early
For a cup of tea. It does not
Turn away in distaste
At my morning breath.
Which is more than can be said
Of a long-standing husband !
Idli sambhar
A Haryanvi friend sent his son on vacation to stay with a family in Chennai. Before he left, he lectured him not to behave like a Jat and to respect Tamil customs.
All went well until he was asked one morning what he thought of the idli he had for breakfast. "Tastes a bit like soap," he said without thinking. Remembering his promise to his father, he recovered adroitly, "Not that I donít like soap."
(Contributed by Reeten Ganguly, Tezpur)