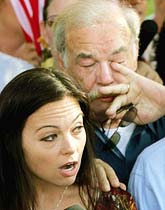 Will Schiavo's post-mortem reveal anything?
Pinellas Park, April 1
Autopsies are performed to tell stories, and there are two chapters of Terri Schiavo's life that doctors, lawyers, family members and now a public debating end-of-life care would like to hear.


Suzanne Vitadamo (left), sister of brain-damaged Florida woman Terri Schiavo, speaks to the media accompanied by her father Bob Schindler in front of the Woodside Hospice where Schiavo died on Thursday. — Reuters photo


Schiavo's death 'violation of sacred life'


Editorial: To live, or not to live


Oped: Terri's right to live (or die) generates debate
Mite that makes bees scarce threatens $15 bn US fruit crop
It is a sound you take for granted, the gentle buzz of bees out and about on their daily business, pollinating flowers and trees. But in the US it is a sound that is becoming steadily rarer and that rarity threatens fruit crops worth $15billion from Florida to California.
US Congress nod to F-16s for Pak to take two months
Washington, April 1
It will take almost two months to get Congressional approval for selling US-made
F-16 aircraft to Pakistan, the State Department told Dawn. On March 25, the Bush Administration announced its plan to sell an unspecified number of F-16 fighter jets to Pakistan.