Theatre binds them together
Chandigarh, April 10
Theatre has inspired their imagination. Happy to be in the company of scripts and stage, Lillete Dubey, Neha Dubey, Amar Talwar and Joy Sengupta love to talk about enactment as if it were some newly acquired skill.

(From left): Amar Talwar, Neha Dubey, Lillete Dubey and Joy Sengupta during their visit to Chandigarh where they presented a Mahesh Dattani play on Saturday. — Tribune photo by Pankaj Sharma



Religious album released
Zirakpur, April 10
Mr Narinder Sharma, president of the Zirakpur Nagar Panahayat, today released an album "Darshan De De Daatiye" of religious songs sung by Shivendra Vaishnav and Sanjeev Bhardwaj.



Chitra Iyer regales audience
The M R Arya School auditorium was literally converted to mini South India as the versatile and vivacious Chitra Iyer-Sivaraman recreated the special musical fervour exuding the essence of the Malayalam, Tamil, Telugu and Kannada culture.


Chitra Iyer and Manoj perform at a musical evening at Moti Ram Arya Senior Secondary School, Sector 27, Chandigarh, on Sunday.
— Tribune photo by Parvesh Chauhan



'Guffain', a challenging play
"Each inquisitive mind, soul and home is infested with a cavern' and there is no escape from the vicious thoughts engaging the self.' This was enunciated in Mudra Rakshas's classic play "Guffain" staged at the Tagore Theatre in Chandigarh on Sunday. Directed by Shyam Juneja, the play proved to be heavy for the audience.


Album, book released
A book, "Dooriyan; by Vinod K. Bhardwaj, better known as Nashad Jaunpuri, and an engineer by profession, and a CD of ghazals was released by M.L. Koser, Director, Pracheen Kala Kendra, in Chandigarh on Sunday. His versatility has been acclaimed by litterateurs like Ali Sardar Zafri.

M.L. Koser, Director, Pracheen Kala Kendra, releases a book by Vinod Bhardwaj in Chandigarh on Sunday.







1.8 lakh given polio drops
Chandigarh, April 10
More than 1.8 lakh children below the age of 5 years were administered polio drops in the first phase of the campaign here today. Following the trend of the previous campaigns, the response from the southern sectors' was more enthusiastic today as compared to the northern sectors' campaign.

49,375 kids given polio drops

12, 250 given polio drops in Mohali



Polio drops being given to a child during the pulse polio drive in Panchkula on Sunday. — A Tribune photograph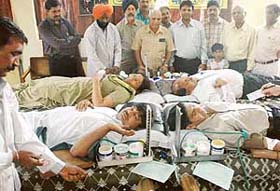 Volunteers donate blood at Dr Ambedkar Bhavan in Chandigarh on Sunday. — A Tribune photograph
Workshop on laser in endo-urology ends
Chandigarh, April 10
A workshop on PNL and holmium laser in endo-urology concluded at the PGI today. Academic sessions concerning various technical aspects of keyhole renal stone removal were organised, which were followed by a day-long exhaustive operative session. Dr A. Varshney from New Delhi demonstrated the laser removal of prostrate.