CAREERCATURE
by Sandeep Joshi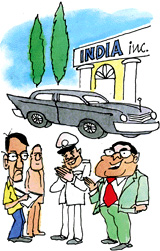 ... and he is the driving force behind our company's success
Soft skills & software sector
Gayatri Rajwade
Computers, their applications and networks are transforming our thinking, our perceptions everyday; constantly changing technology means a relentless upgradation of technical skills to stay ahead in the rat, or rather mouse, race. What then are the challenges before those aspiring for a career in the rapidly changing IT industry? What are the skills that are needed by fresh technical graduates to be on a par with techno-savvy IIT peers?

Trendmill
Tourism hits fast-growth highway
10m more jobs likely by 2015
India's rapidly growing travel industry is on the verge of witnessing an employment boom with the World Travel and Tourism Council estimating it will create a whopping 10 million jobs by 2015, according to a report from New Delhi. "There is a rush towards travel and tourism," Kuoni Academy of Travel Vice-President and head Kamal Hingorani said recently, pointing out that the projected 10 million jobs were nearly three times more than the IT industry is expected to generate in the same period.


Smart Skills
A chance to shine
Usha Albuquerque
The vanity industry is booming, thanks to increasing disposable incomes and greater exposure to international influences. Jewellery is one area where the shine has grown into a sparkle. The whopping 42.23 per cent growth in jewellery exports has leveraged India to a major position in the jewellery business internationally.