PUNJAB

HARYANA

JAMMU & KASHMIR

HIMACHAL

REGIONAL BRIEFS

NATION

OPINIONS

MAILBAG

BUSINESS

SPORTS

WORLD
Monday, May 30, 2005, Chandigarh, India
Updated at 3:00 am (IST)

PM raises pitch for power sector reforms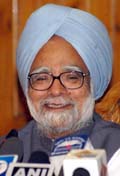 Shimla, May 29
Underlining the need to put the best foot forward in infrastructure development, Prime Minister, Manmohan Singh today called upon the states to ponder why the functioning of electricity boards was not improving and the power sector not attracting private capital.


The Prime Minister, Dr Manmohan Singh, at a conference of state power secretaries in Shimla on Sunday. — Photo by Anil Dayal

Announces mega package for Himachal
Shimla, May 29
Surpassing his predecessor Atal Bihari Vajpayee in extending largesse to the hill state, Prime Minister, Manmohan Singh today announced a direct financial assistance of over Rs 1,125 crore under various schemes.
CAST YOUR VOTE
With growing power shortage, should free power continue to be given?



FORUM

EDUCATION

JOBS & CAREERS

HEALTH & FITNESS

SCIENCE & TECHNOLOGY

SPORTS

SOCIETY

TRIBUNE CLASSIFIEDS

BRIDES WANTED

GROOMS WANTED

OTHERS

HOW TO PLACE ADVTS
FORUM
The new question being posed is:
Should foreign coaches be appointed for the Indian cricket team?
Readers are invited to send their letters, not more than 150 words, to:
The Editor-in-Chief, The Tribune, Sector 29-C, Chandigarh, with 'Forum' superscribed on the envelope. The answers can also be e-mailed to:
[email protected]
H.K. Dua, Editor-in-Chief


Himachal page: Peace talks fine, but hurdles remain: PM

Geelani rejects Pakistan's invitation for visit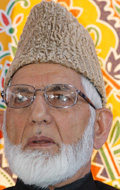 Srinagar, May 29
The Geelani faction of the APHC here today decided not to visit PoK by the Muzaffarabad bus on June 2 in response to the Pakistan Government's invitation that was also extended to other separatist organisations.
Chairman of the All-Party Hurriyat Conference faction (G) Tehreek-E-Hurriyat Syed Ali Shah Geelani at an executive committee meeting in Srinagar on Sunday. — Tribune photo by Amin War



Hurriyat unaffected by Geelani's decision


In video: JKPL to abstain from the meet. (28k, 56k)

Indian call centre workers face racial abuse, quit
London, May 29
Alleged racial abuse and rude behaviour from British and American customers are driving an increasing number of Indian call centre workers to quit their jobs, a media report indicated today.

QUOTE OF THE DAY
We wanted to show our resentment towards Pakistan's present policies on its national stand on the Kashmir issue.
— Syed Ali Shah Geelani

THE TRIBUNE MAGAZINES
On Sundays

On Saturdays

CPM opposes withdrawal of free power to farmers
Chandigarh, May 29
The General Secretary of the CPM, Mr Prakash Karat, today ruled out the merger of his party with the CPI. He said the two parties would continue to work together but would not merge. "It was not a merger of two companies," he added.

CPM to launch 'people's struggle' against govt
| | |
| --- | --- |
| | Mr Prakash Karat, General Secretary of the CPM (right), addresses a press conference in Chandigarh on Sunday. Mr Balwant Singh, Secretary, CPM, Punjab, is seated next to him. — Tribune photo by Pankaj Sharma |
Sanjay performs rituals amid unruly crowd
Yamunanagar, May 29
A huge noisy crowd today turned a solemn occasion into a "filmi tamasha" as Bollywood superstar Sanjay Dutt came to the banks of the Yamuna to perform rituals for his father, Sunil Dutt, who died on May 25.

Bollywood star Sanjay Dutt and his sister with the ashes of their father Sunil Dutt at their grandmother's samadhi near a bridge on the Yamuna, connecting Saharanpur and Yamunanagar, on Sunday.
— Tribune photo by Pradeep Tewari

PM says no to free power
May 29, 2005

Siachen truce to continue
May 28, 2005
APHC leaders can't go beyond PoK: govt
May 27, 2005
Sunil Dutt is no more
May 26, 2005
Punjab faces power crisis
May 25, 2005
Bihar Assembly dissolved
May 24, 2005
2 dead, 50 hurt in Delhi cinema blasts
May 23, 2005
LJP on verge of split
May 22, 2005

PM favours tenure security for bureaucrats
May 21, 2005

Cabinet clears mid-term appraisal of 10th Plan
May 20, 2005