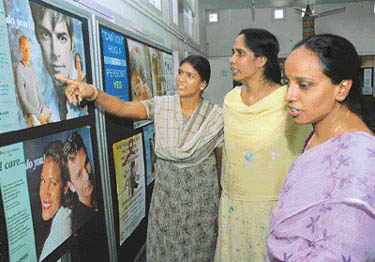 POSITIVE LIVES


Far from seeing themselves as victims, they radiate the confidence of winners in the battle against the AIDS virus. Each of these members of the Positive Women Network (PWN+) has an inspiring tale to tell. Neelam Sharma catches up with 10 courageous young women, who share their experiences of living with the much-dreaded HIV. There is no self-pity or blame game. Rather than being stricken with trauma, they have chosen to overcome the handicap.

Soft drinks, hard battles
The star-studded bubbly ads for fizzy drinks are not always in good taste, reports Chitleen K. Sethi
WITH the lazy crazy onset of summer, bottles pop up to fizzy times. If the first set of the cold drink ad campaigns for the season is anything to go by, the summer promises to sizzle with cola wars. Top Bollywood stars are hooked, booked and are all over the small screen, coaxing you to buy their drink this season.
Rowling's favourite
THE celebrated J K Rowling says that her latest Harry Potter novel is one of the best she has written till now.
haute line
Dressy dupattas
This fashion accessory adds style and colour to both Indian and western wear, says Aakriti Sinha
THIS attractive accessory blends well with the new-age women and a variety of outfits, be it salwaar kameez, churidar, lehenga or even jeans. The sheer magic of dupatta gives that perfect finishing touch to Indian dresses, and now in its new avatar — narrow, stole-like fashion accessory — it goes remarkably with western apparels like skirts, capris, denims, etc.
Mindless media probing
MEDIA buffs are familiar with the classic heroism of a BBC newscaster who watched a bomb come through the ceiling as he was reading the news during World War II. He went right on reading as if nothing had happened.