PUNJAB

HARYANA

JAMMU & KASHMIR

HIMACHAL

REGIONAL BRIEFS

NATION

OPINIONS

MAILBAG

BUSINESS

SPORTS

WORLD
Tuesday, May 31, 2005, Chandigarh, India
Updated at 3:00 am (IST)

Govt ready for more autonomy for J&K


New Delhi, May 30
Ruling out further division of the country on religious or any other grounds, Prime Minister Manmohan Singh observed that India and Pakistan must move forward towards finding constructive solutions to all outstanding issues.

CAST YOUR VOTE
Have financial mega-packages for states become a farce?



FORUM

EDUCATION

JOBS & CAREERS

HEALTH & FITNESS

SCIENCE & TECHNOLOGY

SPORTS

SOCIETY

TRIBUNE CLASSIFIEDS

BRIDES WANTED

GROOMS WANTED

OTHERS

HOW TO PLACE ADVTS
FORUM
The new question being posed is:
Should foreign coaches be appointed for the Indian cricket team?
Readers are invited to send their letters, not more than 150 words, to:
The Editor-in-Chief, The Tribune, Sector 29-C, Chandigarh, with 'Forum' superscribed on the envelope. The answers can also be e-mailed to:
[email protected]
H.K. Dua, Editor-in-Chief


Dissolution of Bihar Assembly challenged in SC
New Delhi, May 30
The last week's midnight proclamation of the President dissolving the Bihar Vidhan Sabha, kept in suspended animation since the imposition of the Central rule in the state on March 7 after the electors had thrown a hung House, was today challenged in the Supreme Court in a petition seeking quashing of the dissolution notification.


In video (28k, 56k)



EC team may submit report today
Airport authorities alerted for Goswami's arrest
Patna, May 30
The Bihar police today alerted immigration officials and airport authorities for the arrest of former Patna District Magistrate Gautam Goswami, his assistant Amitav Arun and Santosh Jha wanted in connection with a flood-relief scam. (Details on Nation page)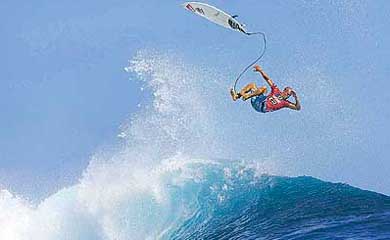 The surf goes flying as Kelly Slater of the US looks down on the surging waves during the Globe WCT Fiji featuring 45 top surfers of the world in Tavarua Island on Monday. — Reuters photo

In Education Tribune today

QUOTE OF THE DAY
We want to tell Pakistan that the problem cannot be solved through arms and all issues, including Kashmir, can be solved by discussing them again and again.

— Atal Bihari Vajpayee
THE TRIBUNE MAGAZINES
On Sundays

On Saturdays

Undertrial escapes in daylight drama
Getaway vehicle rams into school van, 10 hurt
Amritsar, May 30
In a daring escape, six unidentified armed accomplices of notorious criminal Gurpal Singh Pala today succeeded in rescuing him from police custody by throwing red chillies in the eyes of the police party while he was being brought to the district court complex for trial in a theft case.

A mother consoles her child who was injured when a school van was hit by a speeding Tata Sumo in Amritsar on Monday. — A Tribune photograph
10 feared buried under avalanche
Srinagar, May 30
About 10 persons are feared to have been buried under a avalanche early this morning at Kapran in South Kashmir, about 80 km from here. Sources said the 10 persons, belonging to Bakkarwal and Gujjar families and some animals had been buried. Relief and rescue teams have reached the spot.
Ayub Khan bought Indian war plan, claims son
Islamabad, May 30
Pakistan's former President Ayub Khan bought an Indian secret plan to attack the country in 1965 from an Indian Army Brigadier for only Rs 20,000, his son Gohar Ayub Khan claimed in an interview to The News daily published today.


IAF team conquers Mount Everest
New Delhi, May 30
The Indian Air Force (IAF) has once again lived up to its credo of "touching the sky with glory" by successfully conquering the 8848 metres high Mt. Everest on Monday.
PM raises pitch for power sector reforms
May 30, 2005

PM says no to free power
May 29, 2005

Siachen truce to continue
May 28, 2005
APHC leaders can't go beyond PoK: govt
May 27, 2005
Sunil Dutt is no more
May 26, 2005
Punjab faces power crisis
May 25, 2005
Bihar Assembly dissolved
May 24, 2005
2 dead, 50 hurt in Delhi cinema blasts
May 23, 2005
LJP on verge of split
May 22, 2005

PM favours tenure security for bureaucrats
May 21, 2005

Cabinet clears mid-term appraisal of 10th Plan
May 20, 2005