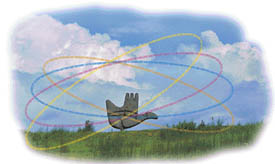 Chandigarh is e-ready
With major IT companies converging on Chandigarh, there are tremendous opportunities for job seekers. Naveen S. Garewal looks at the readiness of Chandigarh as the new IT destination.
THE 'sting operation' conducted by UK's Sun newspaper, involving an employee of Infinity e-search, may have put Indian BPO operations under a cloud and caused concern in IT circles but outsourcing continues to be big business in India.



IT vision
Bindaas about showbiz
Rubinder Gill talks to Jagmeet Samundri, the lad from Mukerian who's smitten by the small screen
ROAD to stardom and Mumbai can be long, heartbreaking and arduous. Few succeed. But, when laughing and making others laugh becomes the life's mantra, the journey seems easier.
Most kissable
A survey, conducted by the dental payment plan company, Denpan, to celebrate the National Kissing day, has seen Brad Pitt being voted as the most kissable person, with Angelina Jolie in the second slot. The survey also ranked Wayne Rooney as the least kissable person.