PUNJAB

HARYANA

JAMMU & KASHMIR

HIMACHAL

REGIONAL BRIEFS

NATION

OPINIONS

MAILBAG

BUSINESS

SPORTS

WORLD


S P O R T S

Ganguly's fate to be known tomorrow


London, July 26
The fate of Sourav Ganguly will be decided on July 28, two days before India play their first match in the triangular cricket series in Sri Lanka. South African judge Albie Sachs has conveyed to the International Cricket Council that he is hoping to be in position to announce the ICC Disputes Resolution Committee's decision on the Code of Conduct process dispute between the ICC and the Board of Control for Cricket in India.



Indians prepare for a blind date with Murali


Team undecided on Sehwag's partner
Dalmiya, Vajpai brace up for CAB contest
Kolkata, July 26
Long-time sports administrator Jagmohan Dalmiya faces a challenge from former top cop Dinesh Vajpai for the president's post as the Cricket Association of Bengal holds its elections here tomorrow.
Irfan's father loses his job
Vadodara, July 26
Indian seamer Irfan Pathan's father, Mehmood Khan Pathan, was thrown out of his job as a Muezzin in the historic Juma Masjid in the city for his alleged negligence in maintenance of the holy Koran, that was partly damaged in the recent torrential rains.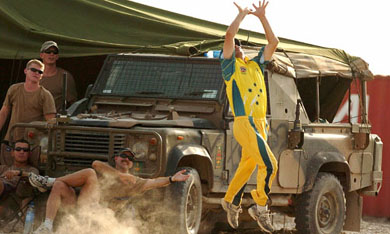 An Australian soldier jumps to take a catch in front of an army vehicle during a cricket match against the British soldiers in Al Muthanna, southern Iraq, in this recently released file photograph. Dubbed as 'Desert Ashes', these matches coincide with the ongoing Ashes series between England and Australia. The Aussies, like their real life counterparts, crushed England by 102 runs. — Reuters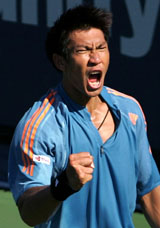 Paradorn Srichaphan of Thailand celebrates during his 7-6, 6-7, 6-2 win over Croatia's Mario Ancic in the first round of the Mercedes Benz Cup in Los Angeles on Monday. — Reuters



Sangakkara's ton puts Sri Lanka on top
July 26, 2005

Sangakkara's ton puts Sri Lanka on top
July 25, 2005

Australia in sight of victory
July 24, 2005

Sania enters quarterfinal
July 23, 2005

England struggling at 92 for 7 after Harmison routs Aussies
July 22, 2005

Vaughan bids to start on front foot
July 21, 2005

Captaincy is not an additional burden for 'The Wall'
July 20, 2005

New era in Indian cricket begins
July 19, 2005

Junior World Cup players omitted
July 18, 2005

BCCI tells selectors to decide on Ganguly
July 17, 2005