SAD leader joins Congress
Chandigarh, August 8
Mr Shamsher Singh Dullo, president of the Punjab Pradesh Congress Committee (PPCC), today urged the presidents of the district units of the party to mobilise the party rank and file at the grassroots level. He urged them to enroll youth especially college and university students, in the party.
No third alternative in the offing
Ludhiana, August 8
After the reorganisation of Punjab in 1966, the Congress found another contender for power in the state. Soon after formation of the Punjabi Suba, an Akali-led government was formed under the leadership of Justice Gurnam Singh, Subsequently, the Akalis consolidated their presence and became the main opposition and a party contending for power in its own right.
CM's village sans civic amenities despite big grants
Bathinda, August 8
Chief Minister Capt Amarinder Singh may have released grants worth crores for the development of his ancestral village Mehraj, but the alleged misuse of allotted funds has turned the village into a "living hell". The state government had sanctioned Rs 6.5 crore for water supply and sewerage project in the village.
PMET muddle: HC scraps evaluation by GND varsity
Chandigarh, August 8
The Punjab and Haryana High Court today scrapped the evaluation of answer-sheets by Guru Nanak Dev University on a petition challenging the results of "second" Punjab Pre-medical entrance test (PMET). The result was declared on July 7. In all, about 1500 candidates had taken the test.
SGPC-run colleges 'deny' seat to Tohra ex-secy's son
Chandigarh, August 8
Citing political victimisation, Mr Malvinder Singh Mali, former press secretary to late Akali leader G.S. Tohra, today sent a letter to the Punjab Governor saying his son was denied admission to two SGPC-run engineering colleges under the Sikh minority quota.
SGPC orders probe into fake recruitment case
Amritsar, August 8
Taking cognizance of a report published in these columns yesterday that a clerk had forged the signature of an SGPC secretary to get two persons appointed as 'sevadars', the SGPC here today announced that it would hold an inquiry into the allegations.
Women allowed to perform kirtan at Harmandar Sahib
Chandigarh, August 8
Taking a historic decision, the SGPC today formally allowed women to perform shabad kirtan at the sanctum sanctorum of Harmandar Sahib. Women have also been allowed to do seva of Palki Sahib and the Parkarma.


Historic gurdwara to have museum
Kanuwan (Gurdaspur), August 8
The historic gurdwara commemorating the 'Chotta Ghalughara' (mass massacre) of Sikhs at the hands of Mughals in 1846 will have a museum. Mr Partap Singh Bajwa, Minister for PWD, Culture and Archives, gave this information while talking to The Tribune here yesterday.
UK Sikhs visit Khadoor Sahib
Tarn Taran, August 8
A 100-member Sikh jatha from the UK, under the banner of Guru Manyo Granth Khalsa yesterday visited the historic Khadoor Sahib Gurdwara, Angitha Sahib, 20 km from here, besides the museum and other historic places.
Funding of free power raises moot questions
Chandigarh, August 8
The Punjab Government is still groping in the dark when it comes to providing funds for free power to the farming sector in the state. The government will have to pay approximately Rs 430 crore to the PSEB for providing free power to the small and marginal farmers.
PSEB staff protest against cashiers' suspension
Bathinda, August 8
Reacting to the suspension of two cashiers following a robbery incident at the Punjab State Electricity Board office here, the board's clerical staff of four subdivisions of the city today observed total strike.
Poor quality of rice: Siva Prasad repatriated
Chandigarh, August 8
Protesters by "client states" of the Food Corporation of India, Punjab, over poor quality of rice being supplied to them, today, resulted in the repatriation of the Senior Regional Manager (SRM), Mr K. Siva Prasad, to his parent state, almost two years prior to completion of his four-year term.
Health Secy visits hospital
Samana, August 8
Mr T.R. Sarangal, Secretary, Health and Family Welfare, Punjab and Managing Director, Punjab Health System Corporation, paid a surprise visit to Civil Hospital here today.
Striking workers block traffic
Mirthal (Gurdaspur), August 8
Workers of the Diamond Agro ghee factory today blocked traffic on the National Highway No. 1 in protest against the non-payment of wages.
Punjab Shiv Sena chief dead
Phillaur August 8
The Shiv Sena (Bal Thackeray), Punjab, Chairman, Mr Surinder Dogra (48), breathed his last after a brief illness in a private hospital of Amritsar today.
200 saplings planted
Jalandhar, August 8
NSS volunteers and students of the local Lyallpur Khalsa College have planted nearly 200 saplings of different species on the campus.
Delay in octroi abolition flayed


HC stays govt suggestions in DSP case
Chandigarh, August 8
Taking up a petition claiming attempts by Punjab's Secretary (Home) Sukh Pal Singh Gill to protect the interest of his police officer brother by implementing a Supreme Court judgement from a later date, a Division Bench of the Punjab and Haryana High Court today issued notice of motion for August 18 and ruled that recommendations, if any, made by the government in pursuance of DSP's seniority list be stayed till then.
Riot victims move SC
Amritsar, August 8
Some 224 anti-Sikh riots victim families who were allotted LIG (Low Income Group) one-room apartments at Ranjit Avenue by the government in 1991 now fear losing their houses.
Memo against police
Kharar, August 8
A memorandum in connection with the inefficiency of the police was handed over to the SDM, Mr D.S. Sandhu, by the Municipal Council president, Mr Charanjit Singh, and others here today.


Centre to import DAP for Punjab farmers
Chandigarh, August 8
The Union Government will import 50,000 tonnes of DAP fertiliser for Punjab farmers. Indian Potash Limited has been authorised by the Centre to handle the import of the fertiliser, it is learnt.
Farmers open gates of three sub canals
Abohar, August 8
Farmers of Sriganganagar area yesterday forcibly opened gates of three sub canals at Sadhuwali, 35 km from here, sources said.
Agitating farmers assured more water
Abohar, August 8
Farmers who had virtually laid siege to the Jeevandesar headworks of the Bikaner / Gang canal at Sriganganagar yesterday dispersed after 10 hours on getting assurance from the Irrigation authorities for better supply of water.
Revoke nod to commercial cultivation of Bt cotton: KVM
Bathinda, August 8
The Kheti Virasat Mission will approach the genetic engineering approval committee (GEAC) to demand that the approval given so far for the commercial cultivation of Bt cotton be revoked in wake of what it termed "shocking findings" put out by CICR (Central Institute of Cotton Research).


Directive on land deeds
Jalandhar, August 8
Ms Rupan Deol Bajaj, Financial Commissioner (Revenue), Punjab, today directed the deputy commissioners of the state to ensure that all land registration deeds are done on the basis of the "collector rates" fixed by the Punjab Government.


Basti tense after woman stripped, beaten
Faridkot, August 8
Fear and tension gripped the Kapoor Basti located in a slum area behind the new Sabzi Mandi here following the alleged beating of a Bihari woman, Indra Wati (45), under whimsical grounds by her neighbour after stripping her naked and tying her hair with a tree on August 6 night. A report said later they also cut her hair.
24 copper plates of honour board stolen
Ropar, August 8
In an unusual case of theft about 24 copper plates of honour board carrying the names of officers who had worked in the construction and commissioning of the plant were stolen from the main office of the Guru Gobind Singh Super Thermal Plant, Ropar.
Three held for smuggling liquor
Hoshiarpur, August 8
The police arrested three persons for smuggling liquor at a naka on the Jalandhar road yesterday. According to Mr Lok Nath Angra, SSP, the driver of a truck (MP-09K-8468) going towards Jalandhar was asked to stop the vehicle at the naka but he tried to escape. The police party chased and intercepted the vehicle.
Land sold twice, one booked
Tarn Taran, August 8
Harinder Singh a resident of Kamalpur village allegedly cheated his neighbour by selling him a piece of land which was previously sold to his own wife and mother.
Couple drugged, robbed
Phagwara, August 8
A Phagwara couple was robbed of gold ornaments and cash at a dharamshala in Chintpurni after some persons offered them tea on Sunday.
Villagers ransack power grid; 3 booked
Bathinda, August 8
Protesting against power shortage in their village, residents of Bhokhra last night ransacked the village's 33 KV grid. They reportedly manhandled PSEB staff and broke the windowpanes of the board office.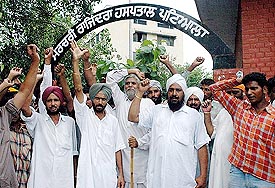 2 dead, 6 hurt in mishap
Patiala, August 8
Two persons were killed and six injured in an accident near Phagan Majra village on the Sirhind road here.



Relatives and residents of Bibipur village protest against the alleged police inaction in front of Govt Rajindra Hospital, Patiala, on Monday. The bodies of two persons killed were placed in the hospital mortuary. — Photo by Rajesh Sachar


Research on removal of defective genes
Sangrur, August 8
Scientists are working at removing various defective genes from the human bodies for treating chronic diseases without any medicinal aid.
Water supply has cut absenteeism in schools: study
Chandigarh, August 8
Commissioning of rural water supply schemes in Ropar, Hoshiarpur and Gurdaspur has improved attendance, especially of girl students, in schools besides giving more time to women for both household and farming activities, says a study conducted by the Centre for Research in Rural and Industrial Development.
SGPC education panel revises pay scales
Chandigarh, August 8
The SGPC's committee on education today revised the pay scales of the teaching and non-teaching staff posted in public, elementary and secondary schools run by it.
Govt-aided school staff to hold protest
Ropar, August 8
All government-aided schools in Punjab will remain closed on August 10 in protest against the recent government decision to stop grants to these schools.
DAV school Principal 'suspended'
Ferozepore, August 8
The DAV College Managing Committee, New Delhi, today placed the services of Ms Madhu Sharma, Principal of the local DAV Girls School under suspension.