PUNJAB

HARYANA

JAMMU & KASHMIR

HIMACHAL

REGIONAL BRIEFS

NATION

OPINIONS

MAILBAG

BUSINESS

SPORTS

WORLD


B U S I N E S S

Govt to offload 8 pc equity in Maruti
New Delhi, September 2
The Cabinet Committee on Economic Affairs (CCEA) today approved the disinvestment of 8 per cent of its remaining stake in Maruti Udyog Limited (MUL).
CBI recovers Rs 5 cr of Volkswagen scam money
New Delhi, September 2
The CBI has recovered Rs 5 crore out of the Rs 11.67 crore which the Andhra Pradesh Government had paid to Delhi-based Vasistha Wahan company as a part of equity capital of 2.5 per cent from a person in Bangalore.


| | |
| --- | --- |
| | Motoatsu Shiraishi, Senior Managing Director of Honda Motors and President of Honda R&D, rides the company's ASV-3 (3rd-generation Advanced Safety Vehicles) motor cycle at Tokyo on Friday. Honda unveiled the ASV-3 vehicles, a motor cycle and a car, equipped to exchange positional information with other vehicles using inter-vehicle communication technology. — AFP |
ONGC strikes gas in Bay of Bengal
New Delhi, September 2
The state-owned Oil and Natural Gas Corp (ONGC), country's largest oil producer, has made a huge gas discovery in deep-sea Bay of Bengal, with initial reserves being assessed to be in the range of 4 to 6 trillion cubic feet.
Crude prices may touch $ 90: Assocham
New Delhi, September 2
The surging crude oil demand, coupled with tightening of supplies, can push up the oil prices to over $ 90 a barrel, according to a paper brought out by Assocham today.
Cabinet okays C-DoT, Alcatel wireless centre
New Delhi, September 2
The Union Cabinet today approved a global broadband wireless research centre — "C-DoT Alcatel Research Centre"— in Chennai with an outlay of Rs.212 crore.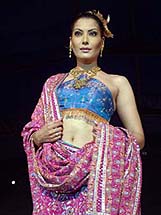 A model showcases a Rohit Verma creation during a fashion show as part of the Shaadi Festival, 2005, in Ahmedabad on Thursday night. — PTI

PM worried over mounting fiscal deficit
September 2, 2005

FinMin rejects Aiyar's plea for excise duty cut
September 1, 2005

LTC, car allowance, phone bills to attract FBT, Esops exempted
August 31, 2005

RBI annual report cautions against
rising crude prices
August 30, 2005

HAL keen on joint venture with Sukhoi
for passenger jet
August 29, 2005

Chidambaram pulls up public sector banks
August 28, 2005

SEBI for uniformity
in public holdings in
listed firms
August 27, 2005

Punjab postpones decision to divest
stake in 4 PSUs
August 26, 2005

Govt worried over
high ad expenditure
by oil cos
August 25, 2005

Aiyar moots duty cut to cushion petro price hike
August 24, 2005

Petro price hike unavoidable: FM
August 23, 2005