M A I N N E W S
Blasts in 2 cracker factories
At least 34 killed, over 50 injured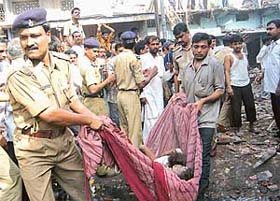 Policemen carry bodies of young children from an explosion at a fire-cracker factory in Khushru Pur village, about 35 km from Patna, on Thursday.
— AFP photo
Khusurupur (Patna), September 15
At least 34 persons, including five women and 10 children, were today killed and 50 injured, many of them seriously, in a series of explosions in two cracker factories here, about 50 km from Patna. District Magistrate B Rajendra confirmed 32 deaths but put the number of injured at 24.
Medical Officer of Fatuha Hospital R.N.P. Sinha said 25 persons were referred to Nalanda Medical College and Hospital in Patna. Other hospitals in Bakhtiarpur, Fatuha and Patna also admitted 25 injured persons.
Owner of one of the factories, Mohammad Hakim, whose entire family of seven perished in the mishap, has been arrested.
DIG (Patna Range) R. Singh said a large portion of the double-storeyed building housing the two factories owned by Hakim and Mohammad Mushtaq in Miyan Toli locality crumbled due to the explosions, which were heard in a radius of 3 km.
An electric short circuit is suspected to have caused the blaze leading to the explosions.
The MLA of the dissolved Bihar Assembly, Mr Aniruddh Kumar Yadav, claimed at least 50 persons were killed and 100 injured in the mishap.
Aftab, a resident of Miyan Toli, giving the account, said: "We first heard a loud blast and then a series of explosions shook the whole place. The locality presented a chaotic scene as everybody ran for cover."
"The earth shook, the sky was black with smoke and crackers shot up lighting the sky with sparks," said Nagendra Goswami, an eyewitness.
The toll was likely to rise as some bodies were still believed to be trapped under the debris.
The explosions were so powerful that the roofs and walls of the factories collapsed under its impact and several persons were trapped in the inferno.
While several persons were charred to death, others perished on inhaling toxic fumes or were crushed to death as people ran helter-skelter to save themselves.
Fire tenders fought for over two hours to bring the blaze under control. The fire fighting operations were hindered due to the heavy crowding of the area with narrow lanes.